Photos and text by H. Marc Lewis
This is a slide show of a trip taken by Phil and Debb Kopp, Mark Alpen and myself in March of 2004. Mark only joined us for the first day and night. Phil, Debb and I were in Mexico from the 1st through the 9th.
Baja California is beautiful, inexpensive, has decent paved roads, and there's great food available just about anywhere. Knowing a tiny bit of Spanish is very helpful, but not necessary. A highly recommended vacation spot.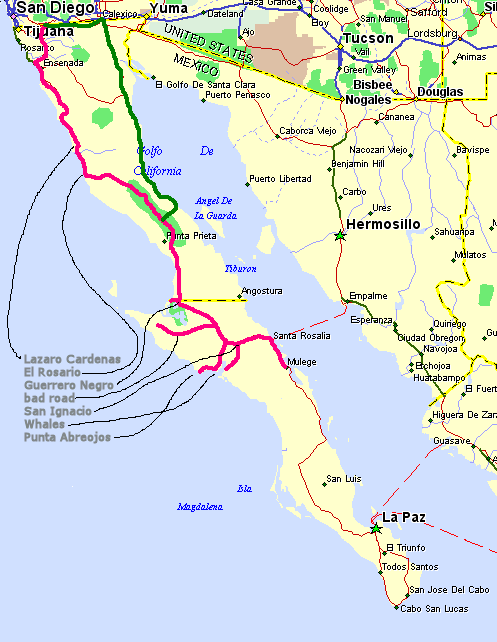 I drove my pickup truck with my R1100GS in the back to Seattle, where we attached a trailer with 2 KLRs and headed south on I-5. We left the truck and trailer in Escondido, and rode to Tecate where we crossed into Mexico with a wave of the border guard's hand.
The route we took (mainly Baja Highway 1) is shown in red on the map above. We were going to return via the green route, but due to the weather-damaged condition of the gravel roads involved, we returned via the same route we took going south.