The Spiral Highway

The "Spiral Highway", aka "The Old Lewiston Grade". Looking south towards Lewiston, ID. A favorite of sportbike riders for miles around, but somewhat heavily patrolled as a result. The road runs from Hwy 195 on the ridge above Lewiston and Clarkston, and descends about 1,500' to the confluence of the Snake and Clearwater rivers.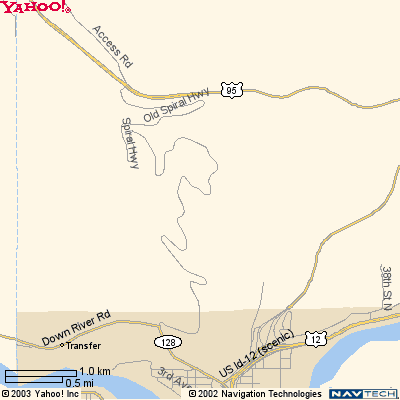 A map showing the twists and turns, it's short, but sweet! The first time I rode this in the mid-80's, the roadway was made up of concrete sections (like they built roads in the 20's) with grass growing in the joints and cowshit in the corners -- it was "open range". It was freshly redone and repaved sometime in the late 80's or early 90's, and now is excellent pavement, with fences to keep the livestock off the road.
Though the day I took the photos above (11-May-2003) I encountered a small herd of goats in my lane as I came around one of the blind corners.
Copyright © 2003, by H. Marc Lewis. All rights reserved.