NMRA Round Five - 9/10 June 2001

Team Spawn Race Report June 9-10
Ok, I'll write a long one this time while things are still fresh in my mind...after going out cruising on the 125 Thursday nite with Larry on his beautifully repainted Repsol-replica NSR50 I spent all day Friday prepping the bikes for the weekend's races - after changing out fluids, plugs, etc. I went to adjust the clutch on the 50 only to discover the adjusting screw had _broken in half_ and was only held in place by the locknut! Good thing I have a crate of dead 50 motors from Gen and Pete, so that repair went relatively easily. I changed the rear sprocket from a 44 to a 46, as I'd mistakenly ordered the wrong sprocket from TCR, meant to get a 48, o well. Changed the front to a 12 as well, had to lengthen the chain, too, ugh.
Just as 5pm rolled around and everything was apart on the garage floor I realized I'd forgotten to get more race fuel, doh! Mad rush across town to buy VP Red from Albright Motorsports, who were kind enough to stay open long enough for me to get there, thanks guys!
Back home I finally got everything reassembled and bagged off working more on the 80 as I was whupped, I really need to as all the big-wheel 80's have it over me on power so I'm feeling inadequate but decided to just soldier on this time...loaded up the van and crashed about midnight.
Saturday I got up late as I was having motivation problems and felt like crap, so I didn't get to the track till almost noon. It was beautiful, sunny and cool, and I got out on the 50 to dial in the new shifting points, and had some great dices with Steve, especially in Turns One-Three where I am finally learning not to back off when someone shows me a wheel, most of the time that is...then it developed a weird bogging under full throttle which was very discouraging and threw me into a funk, but with everyone's help and encouragement, especially Darrin, thanks!, I overcame that and we discovered the main jet had fallen out (!) and was sitting in the bottom of the float bowl, oops! Ran much better after that.
Seth brought his new 80, Mike Deilke's old bike, a really sweet YZ80 waterpumper, and he quickly proceeded to ride faster than me! That's what I get for encouraging him...
Carl Blake was there, what a hoot watching him back the XR100 into the corners, good to see ya Carl!
Erich had his new RS, and took some "innovative" lines at first, but clearly got the hang of it as we will see.
Truman had his bike up and running and really improved during the course of the weekend, and Bill is back on the track, recovered from his wrist injury, hooray!
Sunday morning I woke up very tired and sore, but my clever ploy of preregistering and leaving the bikes/pit set up overnight paid off as I dragged myself up & out in time for the first practice session. Everything was running well (at first), but I was feeling very blank and had trouble getting up to speed both in practice and the qualifiers, so I started the 50 heat from the fourth row, and was moving up through the field when the aluminum collet on the old-style Pro-Flo pipe stripped completely off (!) and I DNF'd, pfft. Ron lent me a Crawford pipe for my 50 and despite my tradition of not working on bikes at the track managed to swap them out in time for the main, thanks to Shawn for his help there.
I got a fair start (from the back row of 18 riders) in the 50 Main but then Bob crashed, breaking his collarbone, and I helped the EMT sort him out. He rang his chimes pretty hard in addition to the break and was laying there moaning when I got to him, the funniest part was when I asked,"Can you tell me where you are?" He thought really hard and replied, "On my back!" Heal fast, Bob!
On the restart I got about 3 laps in before the motor gave that distinctive "braap-bap-pap" misfire on the straight heralding too lean a mixture and I pulled in before overheating the motor. The Crawford pipe had too much flow for my jetting, the exhaust-pipe color was nearly white. I don't think I killed the motor though, but teardown will tell.
Started the 80 heat from second row but was very discouraged from the 50 debacle, had a bad start and got stuck behind Carl for long enough for the leaders to pull far, far away, and finished fifth. By now I was thoroughly flustered but in the 80 Main I got a half-decent start from the second row but got totally stuffed by Pete and Carl in the first turn and settled behind Erich who was behind Carl, I think. It took a couple laps to get past, then most of the race was a hot battle between me and Erich - he'd out-motor me coming out of the turns and on the straights, but I'd outbrake him coming into the corners, and finally squeeked under him between Turn 2 and 3...Ron was slowing, and we were catching up when the leaders came around, (Darrin and Frank are FAST!) and I watched a prime avoidance-maneuver by Darrin as he passed me coming out of Three and nearly took out Ron who had taken a tighter-than-usual line into Four, yikes! I had no idea it was Darrin back there and I expect Ron didn't either, point well taken regarding paying more attention to the leaders coming around...Frank came past with a sweet
outside dive right in the beginning of One, and to my credit I didn't back off a lick like I am prone to once he'd passed...on the white flag lap Frank oopsed in Five just as I was coming around, and my own avoidance maneuver allowed both Erich and Ron to catch up for a drag race to the finish - Erich must have had a "Who cares if I make the corner, I'm going to beat him to the line!" moment, and did just that, taking fifth place from me in a photo-finish! Double-yikes! Braver (or crazier) than me, he earned that spot! Very fun!
I so totally want one of those GP bikes but I'll have to sell or trade in order to get one (broke and not working at the moment)...I have two 50's and the 80 which are potentially on the auction block and will be available for the Invitational next month if anyone's interested, email me for more details!
(About half of the pics below are from Ron's website, thanx!)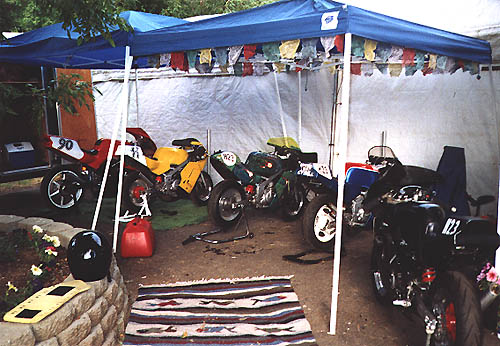 It's da pits I tell you!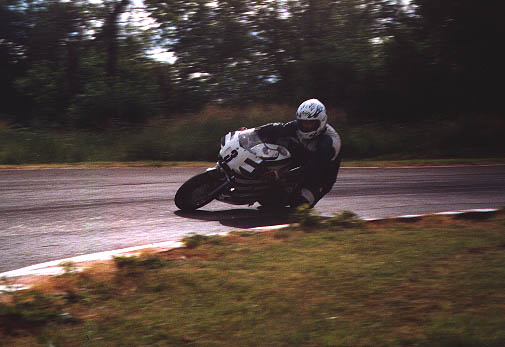 Ralph Redding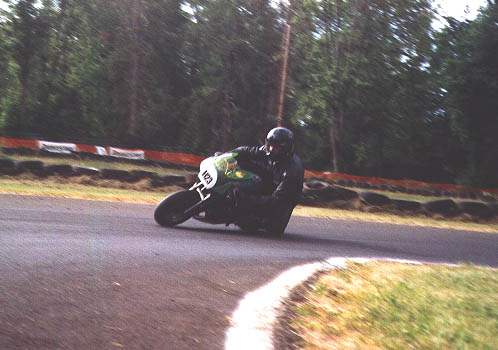 Yours truly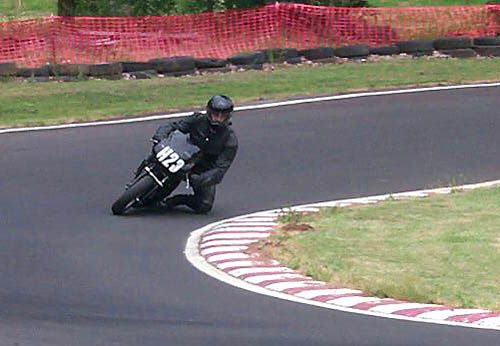 In Turn One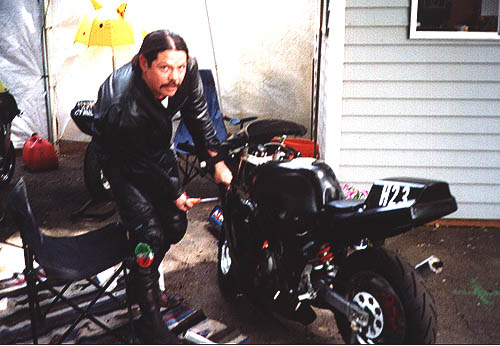 Proof I actually worked on something!


First lap of the 80cc Main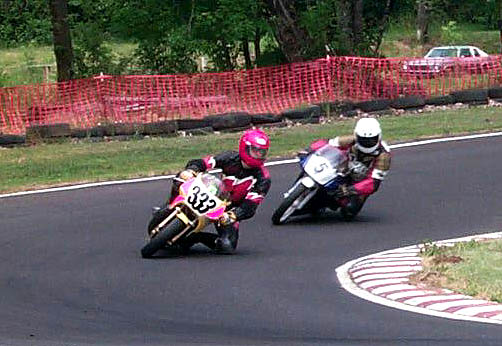 Seth LaForge, Ron West

Finally around Carl Blake, I try to close on Erich Gebbie and his new RS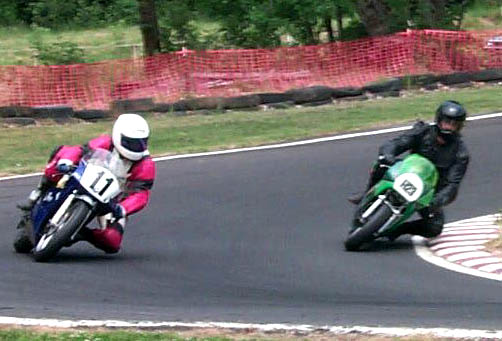 Here I try a bogus inside line in Turn One but it doesn't work


This equally bogus line in Turn Two did work, though! Erich re-passed at the finish line for 5th place