NMRA Round Two: 23-24 March 2002
Pat's Acres, Canby OR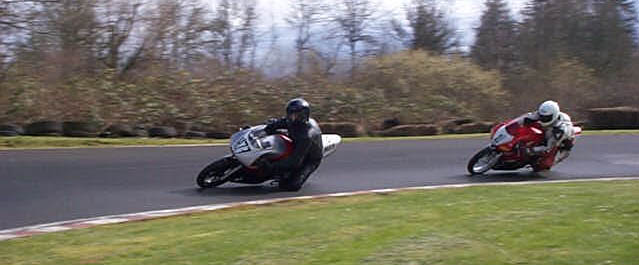 Practice
Novice
50GP / Thunder
80GP
Team Spawn Race Report
Or, "Too much of a Good Thing(tm) is _still_ a good thing!"
It all started out innocently enough - I had new IRC's put on the YSRM-80 on Wednesday so
if it rained on Sunday I still could race in the 80 class as I don't have rains for the Moriwaki -
Thursday I went to the track to scrub them in and get more seat time on the MH, met up with
Shawn, and had such a good time that we went back on Friday, and got some great backwards
laps, too, I really dig how Turns Four and One open up into full-throttle increasing-radius turns
and how Five is even more of a swoopy corkscrew ridden the "wrong" direction!
Anyway, I was pretty tired by Friday nite, and my wrists and forearms were sore, a harbinger of
times to come...
Saturday morning I met up with my 2-stroke friend Steve C., who was going to play on Spawn, and
Lou and Larry Chiu, who brought Lou's NSR-50. We got to the track and set up along the back
fence in a long row of EZ-Up's - I really liked that setup, I hope we try to do this again at future
races as IMO it really enhanced the sense of comraderie to all be pitted "together". Weather was
sunny and warm - perfect!
Lou generously let me take a few laps on the NSR which I'd been lusting for ever since he got it,
and I was a little surprised that it was more underpowered than I expected and how soft the
suspension was - it's still a great bike but now I'm not lusting after it so much anymore. Check out
Larry's 50cc Page for lots of Mini-Honda stuff - NSRs, Monkeybikes, more!
Seth brought his insane YSR-powered folding bicycle and rode around the area, getting the
most dumfounded looks from everyone that witnessed it - "Just because a thing _can_ be
done doesn't always mean it _should_ be!" bizarre
Practice went fine and my YSR-50 was running strong, as was the MH. My wrists and forearms
were definitely sore though, and unbeknownst to me I was developing a bad habit of angulating
my upper body like a slalom skiier to lessen the pressure, centering my head over the tank and
even leaning away from the turn! I didn't notice this till looking at the photos Sunday nite, no
wonder I felt more squirrelly in the corners than usual! *sigh* Another bad habit to unlearn,
though next time maybe I'll refrain from doing 4 days in a row, "too much of a good thing".
Steve had a good time on Spawn, and gets recognition for being one of the only riders ever to not
crash it! He tried my YSRM-80 for a few laps but discovered just how manly you have to be to
ride that buzzy, choppy thing, (good back-straight wheelie though, heh) and happily switched back
to the 50 for the rest of the session.
Sunday race morning started out wet, and I showed up a little later than usual, skipping the first
two practice sessions and only taking a couple sighting laps on the third. My wrists were really
sore right from the start and only got worse throughout the day. I placed 5th in qualifying on
the 50, for a second row start. When the light turned green I revved and dropped the clutch for
my launch, and...nothing! It popped out of gear just as I whacked the throttle and by the time I
got going the field was long gone. I worked my way back to 5th before the checker for the
identical start position in the Main - this time I made sure I was in gear, got a good launch, and
dove into the melee in Turn One, bikes all around and I'm not giving an inch! Ted Foster and I
bumped on one side going into it, and again on the other side coming out of the turn - he got
air coming off the coping after the second bump, saved it, and proceeded to pass both me and
Ty within a lap or two for third place! The three of us, Ted, Ty and me, had a killer wheel-to-wheel
race up to the finish - Ted slowly pulled away, but I amazed myself by keeping right on the wheel
of Ty's big-bore bike and actually could gain on him under braking going into Six and One, but he
never put a wheel wrong and I couldn't pass him. A fantastic race, as exciting as any I've had!
In the 80cc qualifying I placed second for a first-row start in the heat. I got a fantastic launch
alongside Seth and led into the first turn, knowing Darrin, last year's title holder on _his_ MH
would be right behind me before I knew it, and sure enough he was - I managed to hold him
off though, and finished in first for the pole in the Main! In the pits though I staggered around
totally knackered, and my forearms were swollen and hot. Come the Main I got another
fantastic launch with Seth right up my tailpipe, and led for about 2/3 of the race but I was
having real trouble with my forearms by now, and couldn't work the throttle properly as
well as missing about four shifts at various points, not to mention the body-position thing,
so ultimately Darrin passed me on the brakes and proceeded to walk away for the win.
I held on for 2nd place though, not bad for the first race on the new bike! I've still got a long
way to go to ride the bike to its potential, but I came away very happy, and can't wait for
the next race in April!
Thanks to everyone that took pictures - Russ, Jen, Sharyl(?),Jim and Nancy, to Ron and Ralph
for setting this up, and especially Chris Egger of Pat's Acres for his outstanding support of our
mini-moto race program!