NMRA Round Three - 21 April 02
Pat's Acres, Canby OR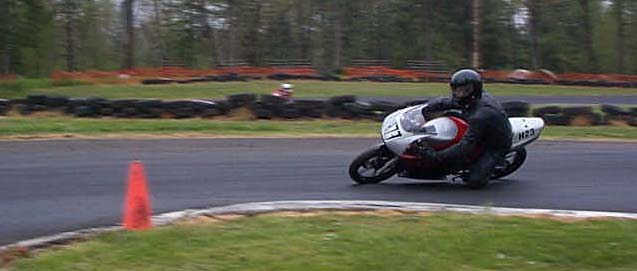 Turn Three shots
80 Heat
Novice Main
Team Spawn Race Report
Oogh, I think I must have the flu or something, all last week I felt
woozy/fatigued/malaise, and this weekend was no exception. Nevertheless,
this weekend's YSR racing was fantastic, in spite of a couple dumbshit
moves that made it more "interesting".
Saturday practice went really well, I'd installed my new MyChron on the
Mori and had the pleasure of seeing my lap times drop throughout the day,
to where I was turning consistant 43's with the occasional 42, which is my
personal best for this track! Mark Morrissey came out and gave me some
really useful Team Oregon tips that pretty much corrected
my body positioning, and I finally learned a fast line through the Turn
Two-Three transition, (though I forgot it come race day). I had a
fantastic session on the YSR with Ty Kuntz, wheel-to-wheel and swapping
leads every couple of laps, actually the funnest moments of the weekend!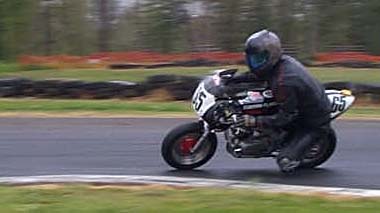 Ty
Sunday I felt terrible, and looked it, too, (at least according to the
witnesses). I got to the track in time for the final practice, and went
out on the Mori but was only able to turn 44's with a 43 or two in there,
I felt very disconnected from the machine and the track, but plugged ahead
anyway.
In the 50GP qualifier I pulled dumbshit move #1 by performing the classic
YSR cold-tire lowslide in Turn 5 on the first lap - all I wanted was to
have a clear track ahead of me for a good timing run but ended up on my
ass. Other than banging myself and the bike up a little there was no
damage to speak of so I jumped back on and managed to qualify fifth, I
think, second row in any event.
I got a decent flyer on the Mori in qualifying for third I think, on the
front row...Mike, a racer friend of Ron & Co. totally blew the
field away on Erich's monster RS, easily a whole second faster than anyone
else, while Erich rode Darrin's Mori as he was at PIR for the SuperTT.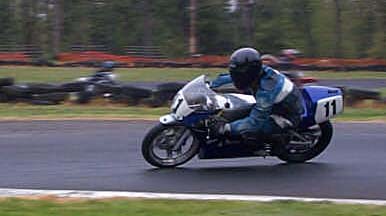 Mike
In the 50GP heat I got an ok start, but blinked in One and missed a shift
in Two so a bunch of people got past and I ended up pretty much by myself
the whole race, took fifth or sixth I think, second row for the Main.
In 80GP, dumbshit move #2 in that a bike runs much better if the gas is
turned "on". Doh! There was just enough to take the 2 warmup laps, grid,
then founder into One wondering why it was sputtering like it was
ultra-leaned out...(no gas is considered lean I guess). My brain finally
engaged between One and Two and as I fiddled with the blamed petcock and
tried not to run off the track the field passed me, so I spent the rest of
the heat passing the YSRs and catching up with Steve on his TZ for 4th
place.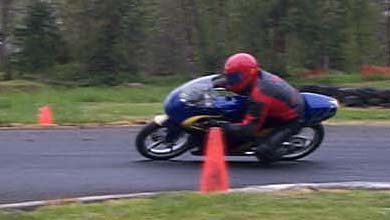 Steve
In the 50GP main I got a good start, survived the Turn One frenzy and
felt pretty good until I missed a shift and Ty stuffed me in Two and
walked away from me as he'd tweaked his jetting and found a bunch of extra
horsepower! I hung in for fourth place even though I missed at least three
more shifts before I was through, bleah. With these bikes so close
together in performance one mistake is all it takes, o well, at least I
didn't crash again!
In the 80GP main I got a fantastic launch and led into One, (yes the gas
was on this time), but Mike came around the outside (!) at the double-apex
and was away - I pretty much kept up for a couple laps, with Erich and Ron
right on my tail, but again, I missed about four shifts as well as forgot
how to go through Two-Three in all the excitement and Erich got around me
in Three with a couple laps to go. Ron might have too, but went wide on
one corner so I got a reprieve and took third, which given how I felt was
pretty good!


Ron & Erich
In the Novice main Jen West pulled a great start and held off Ted Jr. for
second place with a bunch of us along the fence as her cheering section!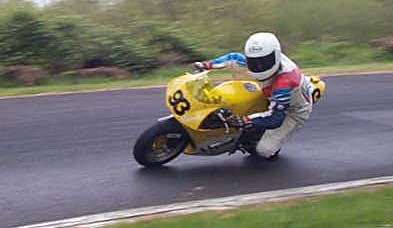 Jen
Several bikes broke but the wildest was Nancy's rear wheel basically
breaking away from the hub! Luckily I had some wheels at home which
I lent her, and all was well.
So all in all a great weekend, thanks to everyone that made it happen!
Photos by Nancy Henderson