NMRA Round Four - 18/19 May 2002
Pat's Acres, Canby OR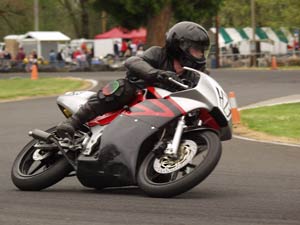 Team Spawn Race Report
The last couple races I've had so much fun on Saturday practice that I
could barely move on Sunday, so I tried a different approach this weekend-
I didn't show up to practice till after noon, and only went out for a
total of five sessions, just enough to remember how to ride, have fun,
but not thrash myself. Plus, I only practiced at 80%, which meant I
was turning consistant 44's with occasional 43's, at least a second off
my best pace but I wasn't panting each time around from exertion and I
didn't cramp up like when I've ridden harder.
With Ron & Co. conspicuously absent, we made sure to make many jokes at
his expense regarding the points scheme for this weekend...Ralph showed
up with Ron's MH in Time Bandits livery, and we got plenty of mileage out
of that, too! ;)

It rained overnight so I opted to skip raceday practice all together,
and showed up at 10am or so, feeling good on race day for the first time
since ?? with no aches/pains and not even grogged out! Who are you and
what have you done with Havoc? I like this concept, and will try it again!
We chose to skip qualifying alltogether and just drew lots, and I
got #1, woo hoo! In the 50GP heat everyone just walked away and I finished
5th, for a second row start for the main. Nothing to say, I was just
riding around by myself. In the 80GP heat I lofted the front end, got
it into second before the wheel hit the ground, and followed Steve and
Ralph into One. The track had gotten sprinkled on and though it was dry
I had the rear step out coming out of Three a couple times which gave me
pause, but not enough to keep me from catching up and winning the heat for
the pole spot, heh! Ralph had a "fuel problem" that dropped him back but
he and Steve ended up having a great battle for 2nd...
All throughout the day Shawn was praying for rain for his _loud_ XR100,
while Steve switched back & forth between rains and slicks on his TZ about
3 times it seemed as the sky would spit for a while then clear, then spit
some more, making everyone nervous...
Shawn got his wish and the track was damp for the 50GP main, and he
promptly crashed in Three during the warm-up lap! Oops.
I got a terrible start and watched as he, Steve, and Ty all came together
in the first turn,"Pow, pow, pow! Ow! Ow! Ow!" I had to take a little side
trip onto the grass to avoid them, as I target fixated as I watched to
see if they all were moving ok, but kept it up and tiptoed to a third
place podium, totally unexpected!
The rain diminished and the karts dried the track out for the 80GP main -
I'd decided to bite the bullet and run it with the MH, slicks and all
regardless of the wet, and was totally thrilled it was dry pavement again!
I didn't wheelie the start but went into One behind Steve and Ralph - I
was psyched though and turned up the effort-meter to about 90% and passed
Steve on the brakes into One a few laps in, then caught Ralph a couple
laps later - I showed him a wheel at the start/finish line and he surged
ahead into One with his famous YSR late-braking move but then went wide
and I dove inside for the lead! The next lap was my only 100% effort the
whole weekend as I pulled out a decent lead, then throttled back a smidge
as my wrists immediately started cramping, but held on for my first win of
the season, hooray!
The track improvements are shaping up nicely with new pavement and
railings for the hot-pit and the gravel laid in for the course extension,
the new Turn Three is going to be a wicked fast downhill sweeper and
the whole layout looks very exciting!!
I didn't take any photos but hopefully the ones Cynthia took come out...
Next race isn't till the end of June, see you then!
Back to NW-YSR