NMRA Round Two - April 1-2 2000
Pat's Acres, Canby OR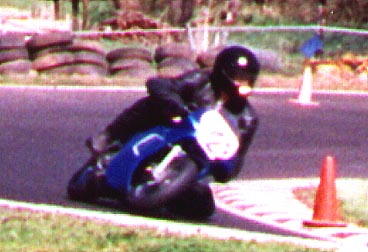 NMRA Results and Pics
Sunday's Racing
Team Spawn Race Report
Date: Sat, 8 Apr 2000 14:34:44 -0700
From: havoc23 <carcosa@eskimo.com>
To: Northwest YSR-50 Enthusiasts <nw-ysr@micapeak.com>
Subject: Team Spawn race report - NMRA Round Two, Apr 1-2
For an April Fools weekend, the weather was amazingly warm and clear, with 70 degree afternoons! I got to Pat's Acres early Saturday, looking forward to some great practice, and I wasn't disappointed - there was plenty of track time, and the circuit was coated with the sticky rubber that we've come to expect...I spent the morning on my red/white Mod50, getting in some good laps before switching to Spawn and really laying down some (for me) blistering practice, building on previous experience to nail the lines on several of the corners, though a couple of them are still a mystery to me...it never fails to amuse me to have to trim/peel excess rubber from the tires after a session, heh.
The Curse of Spawn was still with me, though, as early in the afternoon practice the exhaust hanger on the Pro Circuit can _broke_, and I called it quits to go in search of repairs...thanks to Mike of Team Salad Racing, who was happy to alu-weld it back together, I was ready come the races on Sunday...
Race day was packed with karters as before, so there was a lot of waiting alternating with short periods of high-intensity as we got our practice sessions and timed in the transponders. We still ran both Mod50 and Mod80 classes together, so I stuck with Spawn, hoping that Chris Hoover would show up, and maybe other 80 riders, but he went and bought a Buell instead, and his mondo-YZ80 powered YSR is up for sale, and didn't race, pffft!
I got a great start in the heat race, and managed to hold off Bret, who led the Mod50 class, to the finish - my rented transponder only registered a few of my laps, so I traded it in for a different one for the main...of the laps it counted, I pulled a 49 second one, only a second off Bret's fastest lap so I was pleased with that!
The main was more interesting, as I was gridded in the back row - I got a terrible start - wheelie! bounce! wheelie! - and spent the next few laps working up through the pack until I was behind Bret - that guy is _so_ smooth! I crept closer for another few laps, then tried passing on the inside under braking at the end of the main straight, only to be immediately passed back on the outside before we were even through the turn, yikes! A couple laps later I tried the same move again and then ran
wide, and it stuck! With Bret on my rear wheel I followed through till the finish, breaking the 48-second mark in the process! Whee!
Despite the long waits on raceday this is still the _best_ time I've had in my 3 years of YSR racing, and the folks at Pat's Acres _want_ us there - the main question I fielded all weekend was "That looks like a blast, why aren't there more of you?"
I know you're out there, I don't have an answer to that, but come out and see for yourself, this is _the- best thing to happen to YSR racing in this area, don't miss out on another one!
Next stop is the F440 track with PCYC on April 16th, see you, eh?