SuperTT and NW-YSR present:
YSR Racing - Spokane Motorsports Complex
15 July 2000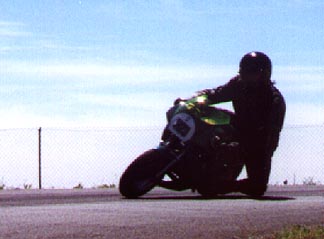 Photos
Team Spawn Race Report
Date: Mon, 17 Jul 2000 10:07:38 -0700
From: havoc23 <carcosa@eskimo.com>
To: Northwest YSR-50 Enthusiasts <nw-ysr@micapeak.com>
Subject: [YSR] Team Spawn Race Report-15 July-Spokane
First, big thanks to Carl Blake for inviting YSR's out to share the SuperTT course this weekend!!
I left Tacoma late Friday nite, cruising under the rising moon to the tune of The Empire Strikes Back, and Mingus Dynasty...arrived in Airway Heights around 0045 and pulled right in to the Four Seasons, the "vacancy" sign
was lit - I was asleep in 15 minutes!
Morning, as ever, came too soon, but armed with MacRatburgers and coffee I was at the track by around 0830...a few comments about the track - it is _every_ bit as good as we've thought it must be when we've looked at it in the past - ten turns, eight of which are 160'-180' switchbacks - all the way around you are either hard on the throttle or on the binders, a true
rider's track! Turn 2 was a little squirrely, as it had a thin coat of claydirt where the SuperTT course came off the jump, but otherwise is in great condition, lots of runoff, a big staging/pit area with plenty of room for camping...Grant and Monica if you're reading this, this would be a FANTASTIC place to hold the Can-Ams!!
I came out hoping to test my mettle against the Gang of Four, (Pete Neilson, Tony Callen, Mike Deilke, and Tyler Sandell) all of whom were racing SuperTT, but _none_ of them brought YSRs! Pfft... Pete had called Dave Albers, though, who brought his super-trick-suspension 80, and Ron West brought his trick CR80 and newly rebuilt Mod50, and Bret Cason brought his Supersport rounding out the field... Darrin Gauvin is still healing from his leg injury, but did a fantastic job flagging and helping with the SuperTT...good work, man!
Even though it was Gather weekend, I was pleasantly surprised to see most of the WL racers there, as T & A, denzler, Goat, Squid etc came over to cause trouble...we got Kevin onto Ron's spare for the heat race, and who?
for the main, no YSRs laying idle in the pits, heh!
We got several loong practice sessions, and I got to try Ron's smoooth CR80 for a few laps...if I weren't _already_ way overbudget this year I'd have to get one of them, too, it was so sweeet!
In the heat race I got a good start, and managed to pull out a gap while Dave fought his way past Ron...but he steadily made up time against me the rest of the race, so I knew there'd be a fight when it came to the main...I've noticed that I'm tiring out more by the end of the day, so I tried a novel concept called "eating lunch" this time, in hopes of having more energy to go the distance...
For the main, we got our full 12 laps, (unlike at Pats, hmph), and I got a great start even with the weird staging-light starting system, and raged into Turn One with Dave right on my rear wheel...that's the way it stayed for the duration, no chance to slack up or rest, I only blew one shift and only got sideways in Two once, each time expecting to see a blue streak coming past me, but held on the whole way to the checker, about my hardest-won win yet! Talk about pressure - I would see Dave's _shadow_
from the settling sun creeping up, and I'd push harder...turns out I was seeing my _own_ shadow half the time, but hey, it kept the pressure on! :)
We have _got_ to come back out here it is so good...totally different from either Pat's or Wenatchee...the kart club guys were out there helping, and say we can come out on kart days and race as our own class, more to come...
I'd left the dog out, so I couldn't stay Saturday nite, so I packed it up and drove home under the bright Moon, to the tunes of Nena, Loreena McKinnett, and Blondie...the hot tub has never been more inviting! I slept _all day_ Sunday, I haven't even unpacked the van yet!
Thanks again to everyone that helped make this a great bonus race weekend!
Next race is with PCYC in Lansdowne weekend after next, then it's the Invitational, woo hoo!
h23