NMRA Round Six - 8/18/02
Pat's Acres, Canby OR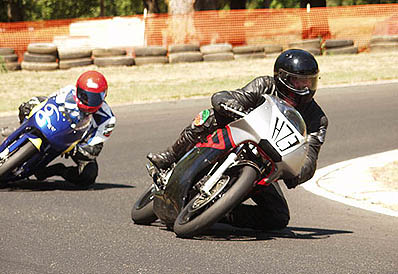 Photos at OnSight Productions
Team Spawn Race Report
With the WCI only two weekends ago, I decided to skip Saturday practice
and actually get a few things done...Larry brought out the NSR-50 racer
he's built and started sorting things out - we'll get him out there racing yet!
Check out his mini-Honda website at: http://www.geocities.com/minihonda/
Saturday evening Seth, Deanna, and "Charles" arrived at Chez Havoc
with the Honda 305? that Chris is picking up on the way to the Gather,
and decided to stay the night instead of camping at the track. After tasty
shishkabobs we all retired to the hot tub for a long soak under the bamboo
rustling in the breeze, then went splat so as to get up early on Sunday.
Normally I skip Sunday practice but I needed to sort out the repairs from
the Invitational crashes and reprogram myself for the "short course"
again, so we arrived bright and early (well, not so bright, and _way_ too
early) at Pat's Acres and got set up. Both bikes ran well in the practice
session so I had high hopes of doing well in the races to come.
I'd like to mention right up front that there were more spectators than
usual from WL/PABS there this weekend, and even though I didn't get to
talk with most of you, thanks for coming and supporting our sport!!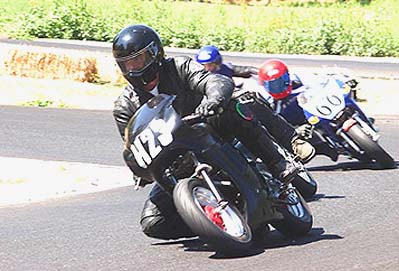 In the 50GP qualifier I rode well for my usual second row start position
for the heat. As we grided for the heat my throttle was tying to stick
open, so I spent my warmup laps fixing it, and still managed to get a
decent start but was leery of the cold tires and wasn't very aggressive
the first couple laps and placed on the second row for the Main. I got a
good start and after the Turn One melee (which I love) hung with the lead
group for a couple laps until they motored away. I had this years 50
motor built to hopefully last a full season so it is only a stock piston
and doesn't have the pull of the bigger motors, but I'm very gratified
that my cornering speed is right up there with Ralph and Ty at least in
the opening laps, so I was happy with my usual 5th place finish,and had a
fun dice with Shawn on his XR100.
I was feeling srong in the 80GP qualifier, and turned some 42's to put me
on the pole for the heat. Steve on his TZ would have been up there but
for having left his transponder on his 50 and having to start from the
back - he is getting faster and faster on that thing as we will see... I
got a good launch in the heat but out from nowhere on the left came Steve
from the back row and he led into One! I dogged his rear wheel for several
laps but he is a super clean rider and there was no chance to even
challenge. Mid-race his motor burbled from the end of One through Three
but then came back and he took the win. Erich on the RS got a bad start
and had to come up through the field and toward the end I saw him gaining
on me every lap, uh-oh! On the white flag lap he was nearly there, and
ahead was Shawn on the XR - coming out of Five Erich was right on my rear
wheel and we were going to catch Shawn right at Six, and I knew that if it
came to a drag race to the finish Erich would be able to take me, so I
dove inside Shawn, did an extra downshift with the rear wheel hopping and
bouncing around, made it, and just edged Erich at the line for 2nd place,
whew!



In the Main, everyone got a good launch and Erich led into One, with
Steve & me side by side and Ron right on our wheels - I held my line
and squeaked into second right behind Erich. Lap One - Erich turning wide



On lap Two I was right on his wheel into One and knew if I didn't pass
him right away he would motor away with that big engine and be gone -
he was cornering a little hesitantly and took Two really wide, so I went
for the patented Turn Two inside block-pass,but the front end washed out
and I was on the ground!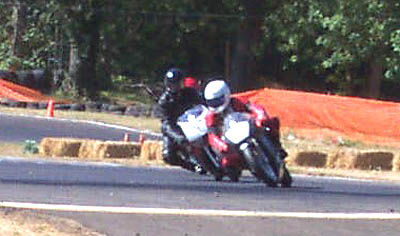 Lap Two, a nanosecond before I throw it on the ground
I jumped up as soon as I stopped moving and found myself in the middle of the track
in the middle of the turn with Ralph and Ty heading for me! They whipped
by on either side of me (yikes) as I'm in full adrenaline mode going:
"Where's the bike! Ack! There it is! Grab! Push! Vroom!" and took off
trailing the pack. I was 'way pumped at this point and started turning consistant
42's to catch back up. By mid race I'd passed the YSRs and could see Ron on his
MH going nto One as I exited Six so I continued to pour it on. By the white flag
he was only one turn ahead of me and I caught him at Six and drag raced to the
line to take third place with only a few feet to spare, woo hoo! Very exciting,
and _almost_ as much fun as winning!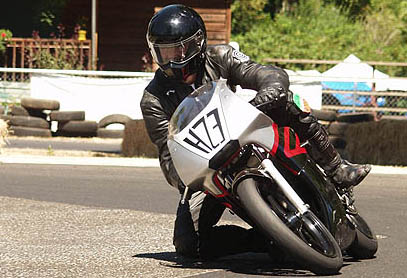 Finally able to look at the bike in the pits I was amazed to find a
massive tire-mark on the tank cover and the _inside_ of the front cowl!
Steve says he was right on my wheel when I biffed, stood it up and
actually ran into my bike! It (and the lack of damage) is a testimony to
the value of bar & frame sliders as he says the bike just slid away the
instant he touched it and not only did he not crash but went on to fight
hard with Erich and take the win!!
I think I'll leave the tire mark on the tank for a little while, battle scars, heh.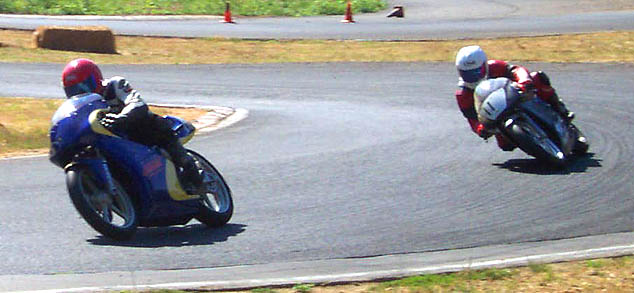 Steve takes the win!
So once again a fantastic day of racing, and I got a podium finish after
crashing out and coming from behind! Once again many thanks to Ron West
for all the work he and his crew put into our club racing, and everyone
who came out and participated!!
Photos: Jen West and Kent Regan