"Devil Duckie"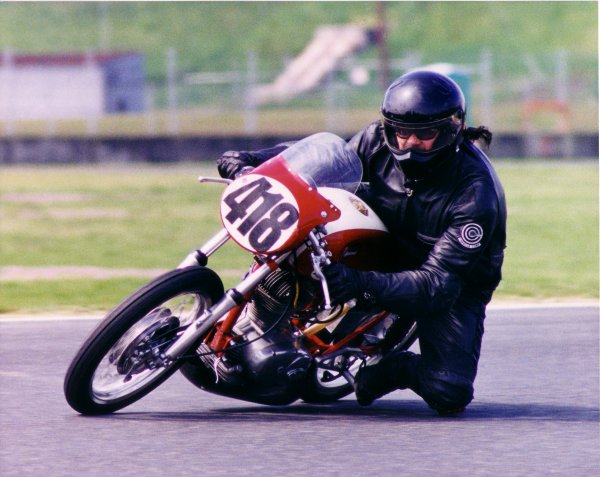 photo by Phil Tanner

  1964 Ducati 250 Narrow-case 5-Speed Roadracer

The newest nember of Team Spawn Racing! I will be racing this bike in the 2003 Sounds of the Past series in the
Pacific Northwest against the ubiquitous CB160's of GroupW Racing of Seattle and Team Flying Circus of Portland -
support vintage racing and come spectate!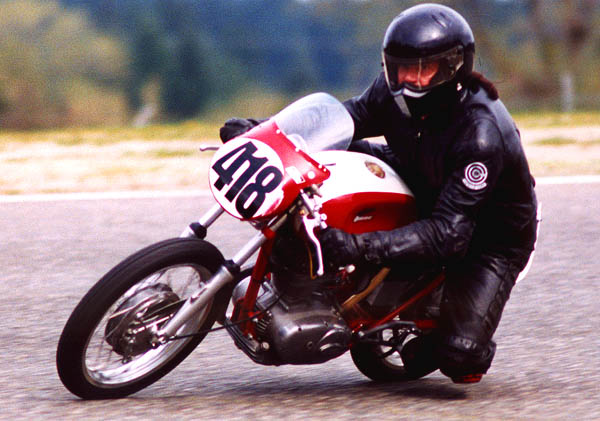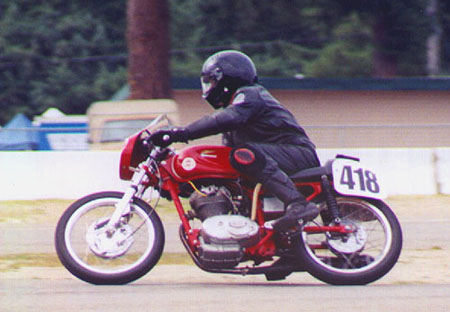 Chassis:
          Daryl Salhus painted the tank & fairing.
          Stock Ducati 250 frame & swingarm
          Honda CB350 tripleclamps & forks
          Honda CB305 Superhawk front hub by Michael Morse, Vintage Brake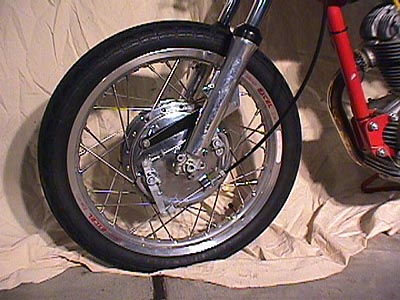 Takasago EXCEL rims
          Progressive shocks
          Avon Roadrunner race tires (90/90H18, 90/80H18)
          2 Fiberglass fuel tanks (one short and one long)
Engine:
          Venolia piston (stock bore, 10.5:1 compression)
          Megacycle cam
          Carillo rod
          Dual-plug big-valve 350 wide-case head
          Ducati 350 valves
          S&W coil spring conversion with titanium collars
          Rockers stripped & re-hardchromed
          Barnett clutch w/3 250 & 3 450 springs
          Crank rebuild by Eurorods
          Stock header with open megaphone/reverse cone
          Dellorto PHF 32 mm carb
Electrical:
          12-V  total-loss points ignition
          Dyna dual-output 5-ohm coil
          Autometer electronic tach
          Fast changeout 4.5 AH Gelcells
This is how the bike looked at the WMRRA 2003 Season Opener: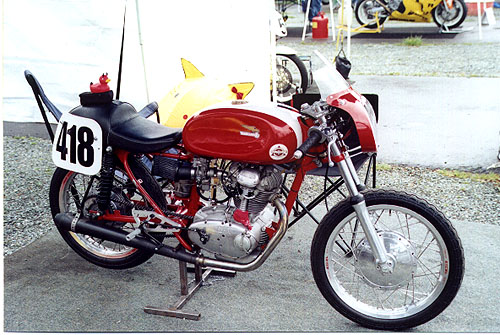 This is how the bike looked with the long tank (as a previous owner raced it).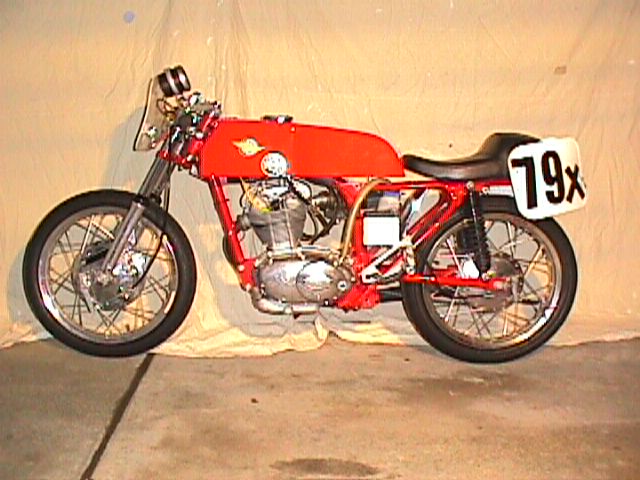 Links:
Team Spawn Racing
NW-YSR Enthusiasts
Northwest Mini Roadracing Assn. (NMRA)


Washington Motorcycle Road Racing Assn. (WMRRA)


Oregon Motorcycle Road Racing Assn. (OMRRA)




Email me!