NMRA Round Two - 24-25 March 2001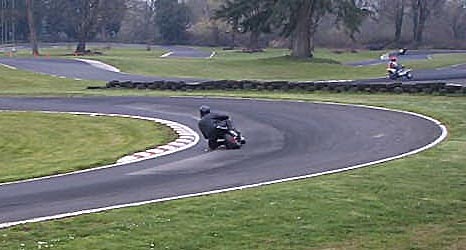 Saturday Practice
Sunday Sprints
Team Spawn Race Report
Saturday practice at Pat's Acres was warm and sunny for the first half of the day, and I got in a lot of track time -
I'd taken the aging Ohlin shock off the 80 and swapped it with the Fox shock from Spawn, big difference! Better ride height and much smoother in the corners! I bucked my own trend of not working on bikes at the track, and
tried different gear ratios on both the 50 and the 80, then spent the day learning new shifting points on the track!
That afternoon the skies opened up and poured rain, so I spent a bunch of laps on Spawn, (crashbike-of-choice
and dedicated rain-bike) sloshing through puddles and working on feeling more confident in the wet.
Sunday was much the same, got some great practice laps in in the morning, but then during the final practice the sky started spitting, and I took a big lowside-slide coming out of Turn Four as the track turned suddenly slick!
Extra thanks to Mike Moriarity for not running over my head! Even as I was still sliding I looked back and saw him _right there_, but he took evasive maneuvers into the grass, thanks Mike!! Minor damage to bike, none to
me, this was my first spill since breaking my collarbone last year, so _thats_ out of the way at least!
The rain came on hard, so I ran the heats & races on Spawn, which gave me increasingly worsening throttle
problems, (sticking open or dying) leading to a couple interesting maneuvers, but no further spills. Nothing like a stuck open throttle coming up to a corner in the rain, eek! Finished mid-pack in both races, which I'm happy with.
Maybe next race will break the cycle of wet, I sure hope so! Thanks to Nancy Henderson for the photos!