NMRA Season Finale - Oct 27/28
Pat's Acres, Canby OR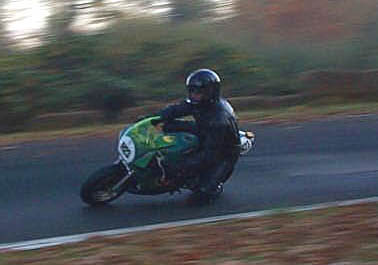 Novice Heat & Main
GP80 Heat & Main
Photos by Nancy Henderson
Team Spawn Race Report
Saturday it was pouring rain at the track, but I came out to watch Ron and Carl enjoy themselves sliding through the leaf-mush and generally having a fun though wet time.
Back at Chez Havoc, Dean came by and knobbed JC and me! (Brought a bottle of Knob Creek 100 proof Bourbon, that is.) That really enhanced my riding the next day for sure, o boy. oogh
Sunday warmup/practice the track was still very wet and slippery, and many folks fell down. Bill
dislocated his pinky finger badly, but (!) drove to the hospital, had it set, and came back to race in both
the Novice heat and main!
Here is what the morning looked like: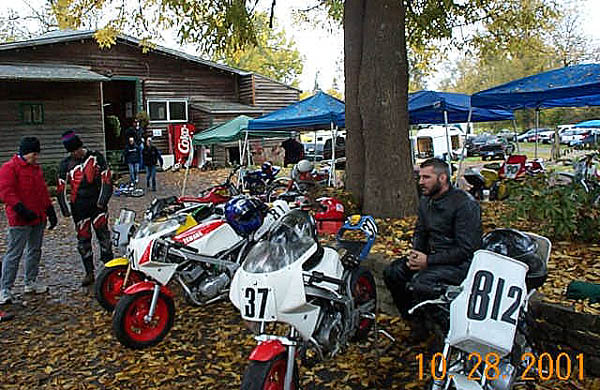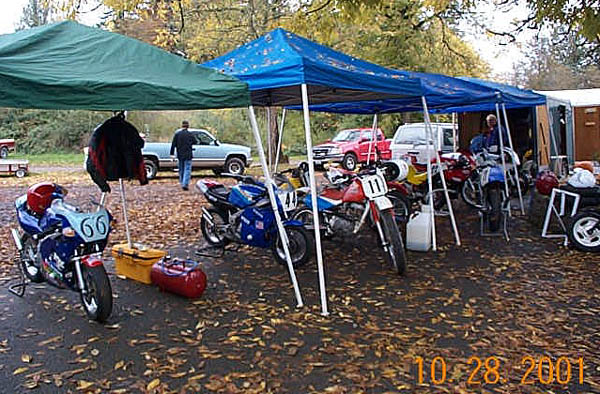 Ichabod Crane made a special guest appearance: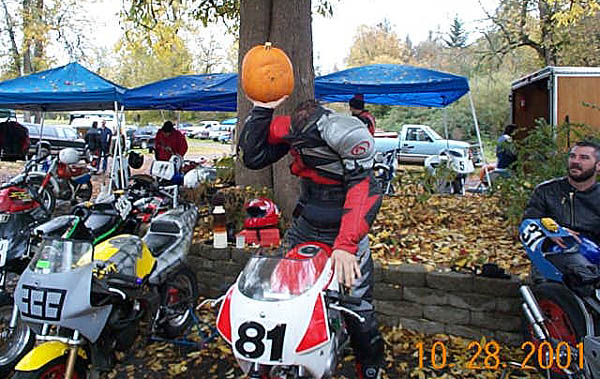 I felt very unweildy but went out for practice anyway, icky slippery wet, ugh. As the day progressed the track actually dried off, though, and I let JC ride Spawn for the Novice heat race: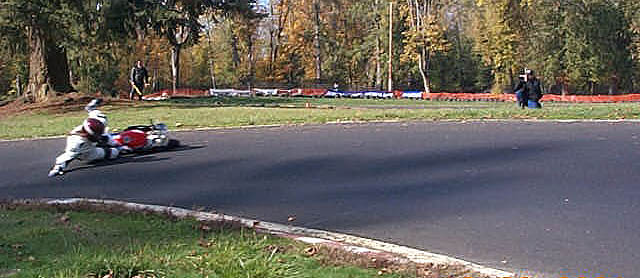 I suppose I should have warned him Spawn has a real affinity for this corner, where it broke my collarbone last year...he borrowed Seth's bike for the Main, heh.
In the GP50 heat I was riding so poorly on Spawn that I just pulled in halfway through and decided to skip the Main. This gave me a great vantage as a cornerworker for a fantastic race with much position swapping and tight
racing. Carl's XR100 knobby-marks on Seth's leathers were quite amusing!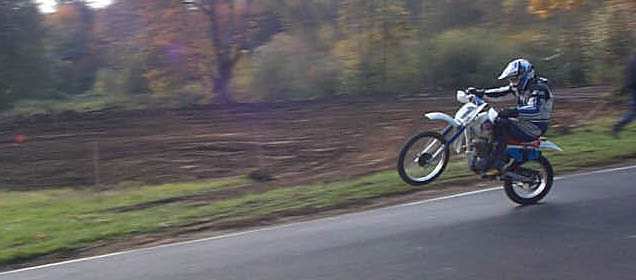 In the GP80 heat I started on the second row but only got a fair start, but then Ron on his Moriwaki and I
had a fantastic close battle for 4th, he trying everything he could to go around but I held on to the finish!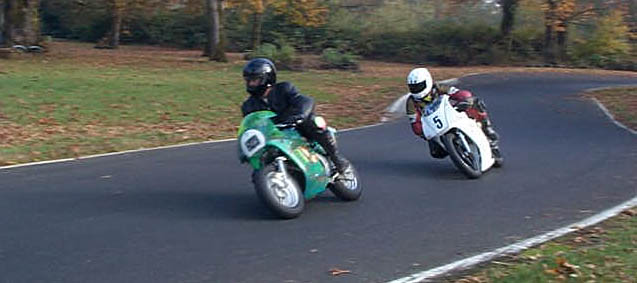 In the GP80 Main I grided on the front row and got a fantastic start, right behind Erich and Frank
and held onto 3rd for a whole lap before tucking the front wheel in Turn Five, bah! I saved it somehow
but by the time I got pointed in the right direction 2/3 of the field was past me and that was that, as it
had been shortened to 8 laps as the sun was setting and there was no catching up.
Here, in 3rd place I foreshadow the next lap by tucking the front wheel in Two: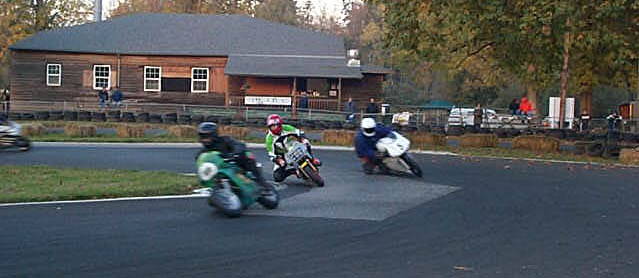 Afterwards, Ron presented the 2002 number plates and I sadly gave up my #2 slot to Frank, who gave up his #1 to Darrin. Congratulations everyone! I don't think I had a podium finish once this year - this is a testimony to the level of racing going on here as my lap times were faster than ever most of the season!
Next year it will be even better, Thanks to everyone involved for a fantastic 2001 season!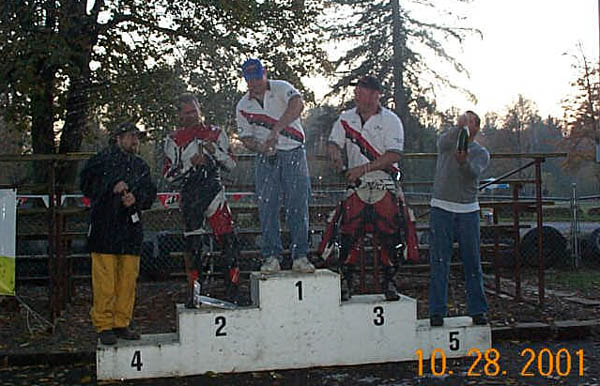 Back to NW-YSR