West Coast YSR Invitational
Aug 4-6, Canby, OR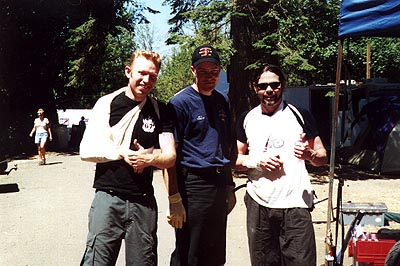 West Coast YSR Invitational Page
Saturday Sprints
Sunday Endurance
Team Clavicle Race Report
Date: Tue, 8 Aug 2000 11:07:25 -0700 (PDT)
From: havoc23 <carcosa@eskimo.com>
To: nw-ysr@micapeak.com
Subject: Team Spawn Race Report - West Coast YSR Invitational
Thursday started out weird enough, as the AC compressor I'd had repaired the day before on the Stealth Van failed, so I spent the morning hanging out at the shop waiting for them to replace it, sheesh. With 90 degree weather I was definitely wanting AC what with a fully loaded van (3 YSRs and enough gear to go camping/racing all weekend)...
Got to the track late afternoon, look at all the people already here! Riders came from as far away as Alberta and L.A., as well as B.C. and Sacramento!
Friday morning practice started at 8am and went throughout the day... I got some good sessions in, particularly on the 80, but made a point of not wearing myself out like I have at Wenatchee, it being our "home track" helped with that...interestingly, as the day wore on, the kart rubber on the track wore off the racing line, definitely changing the traction
characteristics of the corners back to "normal", requiring some adjustment of riding style...what with SuperTT etc the same weekend, we missed having Tyler, Pete, Tony etc., there, though the latter two would've done better to YSR race as both got hurt ( but are "ok"), heal well- we missed you!
Chris Egger, the track owner, deserves extra kudos for being so welcoming and enthusiastic about YSR racing, he even raced Sunday's endurance - thanks for everything, Chris! The potato gun was out in full force in the evenings, but what happened to the "naked" parade laps this year?
Came in third fastest in the "Hot lap" competition even after my transponder didn't record on my first try, which blew my concentration for the retry, but I was still pleased with the result, I'm really finally feeling pretty confident going fast...or was...
Saturday's sprints started out promising enough, I had signed up for Superbike, Open GP and Vets, (suggestion: rename to 'geezer' class and up the age requirement, I think 90% of _everybody_ was over 30, hardly 'vets' per se). First heat was Vets, and I think I took third or maybe fourth, in any event I was happy with it...In 60GP my endurance teammate from 6-7
Racing, Peter, highsided in turn Two and broke his collarbone, ouch! Not a good omen as we will see...
My next heat was Superbike, and I got a mediocre start and was winging around in mid-pack as usual. I'd put a GP shift on Spawn, which worked great as now I didn't have to confuse myself trying to shift 'normal'... Must not have helped too much though - to set up for turn 5, a tight righthander with a dip, I would accelerate out of Four in 4th, then downshift on the throttle without braking coming over the rise, which sets the suspension to dive hard into the dip - I hit the rise, missed the shift or hit false neutral as I'm already committed to the "dive' maneuver, and the front end immediately washed out thowing me down hard
right onto my right shoulder. I felt the clavicle break as I rolled over, rats. Had my arm in the air before even coming to a stop ("Don't stop the race, I'm alive!") and just lay there thinking "Well this is fucked!" for a minute before getting up, kicking the bike, and wandering over to the shade to finish out the heat...bah! The bone ends were creaking together enough that I decided to go to the hospital, so I missed most of the rest of the sprints, though I made it back in time to watch the last couple including Open GP which I would have done pretty well in, I think! O well.
Tylox and Sangria are a good combination, so I wasn't feeling much pain that nite, though I went into PDX for the nite and gave up my tent to Jonathan, (the remaining Team 6-7 rider uninjured)! He won two trophies and did great in the endurance without us btw, good work, buddy!
Sunday the endurance teams got sorted out, and with a wacky crawl-LeMans start, off they went for the next three hours. I spent the race out in turn Four flagging, made me feel more a part of it at least...as an aside, I'd like to gripe that nobody else cornerworked! Though a couple folks wandered around taking pictures. I didn't think that was particularly safe, I was basically covering four corners by myself...anyway, there was some great racing as the race wore on, as well as some memorable
excursions, no (more) injuries either.
Thanks to the 6-7 crew for loading up my van, not an easy task.
Some of the memorable moments include ? Patrick going over the berm on Turn one, Frank geting totally sideways in front of me and bouncing along in turn 6, great close racing between Rich and Beau in the endurance, and
Chris's kid taking laps on his bicycle, training wheels, helmet and all!
Good to see Angus, Harvey, and everybody that came from far away and made this a fantastic weekend!
Next year...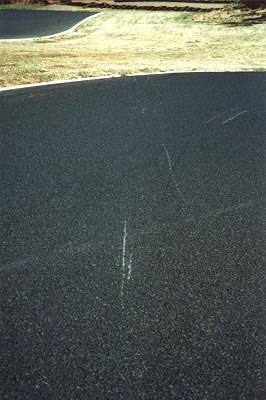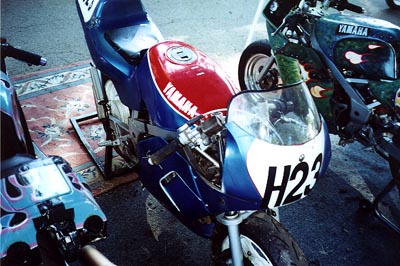 My gouges Bike's ok though! (kind of)