Great White North
July, 2002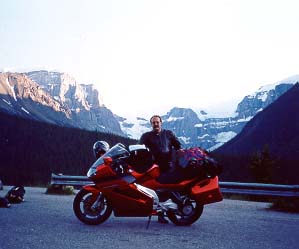 The Catalyst:
So several months back my wife Sharon and her sisters started hatching this plan about getting together to do a road trip. The primary purpose of this being to visit relatives on the west side of the state and see some scenery along the way. This got me to thinking, perhaps if we were going to take a vacation I could use a couple of those days to do a little motorcycle trip as well. Having lived in Spokane Washington off and on for over 40 years, I've always wanted to visit Banff and Jasper up in Alberta. It's almost embarrassing to admit that living so close to the place, I'd never seen it. With the exception of occasional ski trips over the border, all of my road trips have taken me west, south or east but never north. This is pretty sad, particularly in light of the fact that my mother lived in Juneau for a number of years teaching school.
It didn't take long for me to convince myself that this little excursion was something I needed to do. One of my justifications came in the form of an observation that this year it appears a lot of people were doing things they should have done or wanted to do for a long time. Seems like a lot of people were getting back in touch with what was really important in their lives and letting the more superfluous crap fall by the wayside. I liked what I was seeing in this regard and the urge to participate was all the justification I needed. So it's off to the book store in search of a book or two on the area and some maps.
The Plan:
Within a couple of hours of returning from the book store, I discovered that I had made a terrible mistake. Rather that purchasing just maps of BC and Alberta, I had purchased one of Canada as well. Well hell, it didn't take long before I was looking at locations on the map well north of the route I had initially intended to take. As a kid I used to do the same thing. I would stare at maps for hours on end and wonder what it must be like in the particular location I was examining. The same feeling was coming over me now. I ask myself, I wonder what's on that road through Grande Cache heading up to Grande Prairie? And I wonder what that area between Prince George and Dawson Creek looks like? It's sobering to realize that the day dreaming you used to do as a kid is something that you never overcome.
OK, so now I start thinking about probing a little further to the north. Maybe checking out Dawson Creek in preparation for a trip up the Alcan at some future point. I start looking west of Jasper at Price George and Prince Rupert. I'm thinking, I haven't seen those areas and maybe I can make it over there and come back via the North Cascades. I add an additional day to the time I think it will take me. Satisfied? Not a chance. It doesn't stop there. Once I've sold myself of the need to head a little further north, my eyes start wandering further up those squigly lines and the process begins all over again.
I start asking questions about travel in the north on the wetleather motorcycle group I participate in. Many of them are quite well traveled on two wheels, to the point of having ridden Iron Butt rally's. Several people reply with precisely the information I'm looking for. Within a week, I've discovered that the bible of Northern travel is the Milepost and my copy is on order. I'm on Map Quest trying to figure out distances between points heading to the start of the Alcan (Dawson Creek) as well as points along the Alcan. As soon as I started calculating mileage, I knew I wouldn't be satisfied until I had the opportunity to check it out. OK, another day added to the time it might take me.
My copy of the Milepost arrives. This thing is unreal. Over an inch thick and it covers all major roads in the north. From Northern BC, Northern Alberta, the Yukon, the Northwest Territories and through to Alaska, including roads that are only open in winter when the rivers, tundra and oceans are frozen over. The level of detail has to be seen to be believed. I want the job of the people that travel these roads and record their observations. If you're looking for something that can get your imagination going and provide you with the belief that these kinds of trips are very doable, this is it. I devour over half the book in the first day and spend the next several days going through the remainder. At this point I feel like I've got a grasp on what's in store and what can be done on the only bike I have available to me, an Aprilia Futura.
At this stage in the planing I really don't have a schedule. The only plan is to attempt to make it to Jasper the first day and evaluate what can be done for the remainder of the trip at that point. My feeling is that should the weather be bad, my ass be sore or should I be having just a plane old bad Karma day, I'll head for the nearest bar and plant myself. If things are going good, I'll continue north at whatever rate the first day indicates is possible. Judging from what I've been told by others, I'm a bit worried that the trip up the Icefields Parkway could be slow going due to the number of pictures that will need to be taken. I'll have to factor that in.
The Tools:
Because my schedule was to be so flexible, I needed to be prepared stay anywhere from the side of the road in the middle of nowhere to the finest hotel in the north. This meant two things, light weight camping gear and a visa card. OK, maybe a tooth brush and a change of underwear as well. As such, my mind turns to the tools and supplies I'll be needing. It is at this point that my account of events leading up to the trip and my wife's account differ to a significant degree. She will tell you that every day she came home from work for the two weeks leading up to this trip, she would find me playing with a new toy (I work out of a home office so I always beat her home). I would tell you that for those two weeks I would head out at noon and acquire a piece of equipment which would be essential to my survival in the wilderness. What I was doing when she got home was insuring the particular piece of equipment was of sufficient quality that it would standup to the rigors I was about to put it through. You can decide the truth of it for yourself?
The next item was to decide what moto garb I would bring. I had the cold weather Bellstaff gear, the medium weather perforated leather gear and the hot weather Joe Rocket Phoenix gear. Well, carrying all of it would be silly. Operating under the assumption that it would be getting cool, the further north I went, I opted for the medium and cold weather gear. More on this choice later.
The only area remaining variable that had me worried was my choice of motorcycle. An Aprilia Futura. It already had 11,000+ miles on it and had proved to be a very reliable steed. Still, should it break down up there, Aprilia is not being imported to Canada yet. I would be "Right fucked" as a friend of mine so eloquently put it. This meant that I would need tools of greater variety than those supplied in the bikes tools bag. Fortunately, being a dirt bike owner, I already had most of the kit and the tool roll to fit it into. Supplementing that with a few tools out of my other box, a tire pressure gauge and a tire repair kit and I had what I thought I would need.
On the off chance that Aprilia might be interested in knowing what I was about to do to their bike, I decided to see if they had any interest some sponsorship of the trip. You know, like providing me with some riding gear or a loan (or gift) of a Caponord so I didn't have to abuse my Futura. The gentlemen I talked to was very friendly and supportive of my plans. His response was that they had a relatively limited marketing budget for that sort of thing and they were in the process of trying to recruit a past IB competitor to ride the Capo. There would be nothing but best wishes for me.
Got It:
Allrighty then, my plans were finally distilled down to their essence, that being to go north and find out what's there, meet the people that live there and have fun. I had researched the route as much as I could and attempted to prepare for eventualities. Beyond that I would not be worried about how far I got, where I stayed or what I saw. I would let the weather, the road conditions and the people I met along the way determine where I went and when I went there.
Precursor:
As I said earlier, this whole process started when my wife and her sisters were planning a road trip. Well, the week preceding the moto trip, we were visiting my wife's relatives in western Washington as well as making side trips to Victoria BC and Mount Rainier. A good portion of the time, my mind was on the upcoming trip. I wouldn't say I was consumed with it… No I wouldn't say that… We were in Victoria and I had stumbled across a motorcycle rental place on the back side of the Empress Hotel the year before during a company trip to Victoria. When talk of going up to Burchart Gardens came up, I asked my wife if she would rather go with her sisters while I rented a motorcycle and went up island. She said that would be fine. Ever since someone (Phil) posted the URL to an adventure touring site (Tom Grenon's motorcyleexplorer) on wetleather, I had been thinking about a KLR. This rental place just happened to have a couple for rent. Perfect opportunity to try one out. Sign a couple of rental papers and I'm off headed for Nanaimo. Little did I know that this experience would be useful in conversation in the not too distant future.
Day 1, Finding my legs:
It's Friday morning, my alarm is set for 7:30. It's 6:30. I can't sleep. Fuck it, I'm getting up and heading out. My bike is mostly loaded so all I need to do is dawn my riding gear and head to the gas station. My wife takes a picture of me, a hug and a kiss and I'm off. By 8:00 am, I'm loaded with caffeine, loaded with gas, loaded with anticipation and expectations of what's to come and well on my way north. I'm planning to take Hwy 2 from Spokane up to Sandpoint and then follow 95 north from there up through Bonners Ferry to the Canadian border.
About 9:00 I'm just loafing along Hwy 2 between Priest River Idaho and Sandpoint Idaho. The weather is starting to warm. The light is the early morning light (even though it's mid morning) that seems to make colors look more intensely saturated. Yet with the light coming from the eastern direction I'm heading the scene before me takes on the effect one sees with a soft focus filter on a camera. The river is as calm as a mill pond. If the temperature were a couple of degrees cooler, there would probably be a mist on the water. Bet there was earlier this morning. I think to myself this is a wonderful way to start the trip. I hope this is an omen of what's to come.
This scene disappears as I approach Sandpoint and head north on 95 toward Bonners Ferry. Not much traffic out today. This is nice. I love the entrance to Bonners Ferry. Been this way a couple of times heading in to Montana. You drop down a steep hill that takes a monster curve. Suddenly a valley scene unfolds before you. The valley is one of those glacial anomalies where the bottom of the valley is as flat as a pool table. It's a huge valley as well. At least a mile or two wide and extending to the Canadian border. It's unusual enough that it's hard to take your eye off it as your sweeping down the hill.
A little after 10:00 am I clear customs. No hassles at all. The usual questions. Anything to declare? Do you have firearms? Do you have mace? When was the last time you had sex with an animal? Oops, OK maybe they didn't ask that one, that would be the Montana border?
After the border, you start climbing in altitude. Your sweeping up through a series of intersecting ridge lines that when viewed from the air would have to look like the teeth of an alligator clamp laying on its side. Makes for a very nice ride through sweepers and some beautiful scenery. The higher I climb the hotter it's getting. Thankful for the perforated leathers and the 3 liter camelback so I could re-hydrate while on the move. Made 200 miles by noon. I was quite happy with my progress.
The terrain seems to level out once you reach Cranbrook. Kind of stays that way undulating over hilly terrain until you reach Radium Hot Springs. A lovely large lake along the route between Cranbrook and Radium as well that's formed by the damming of the Columbia. Columbia Lake it's called. Both Fernie, right before Radium and Radium seem to be fairly popular. Mental note, might have to check this place out in the future.
At Radium I turn off on 93 into Kootney park. You immediately start climbing in altitude again. The roads are wonderful. I'm hammering around these gorgeous sweepers. Hope the radar picks up any trouble should it appear. All of a sudden this vista of mountain peaks appears. I'm drawn into the turnout to snap a picture. End of playing motorcycle racer, time to gawk at the scenery. I keep climbing, the temperature keeps climbing, the scenery keeps getting better, I keep thinking its got to cool down the higher I go. That glacier is going to melt in a matter of days at these temperatures!
The park transitions from Kootney to Banff. A little while later, again all of a sudden, you are treated to another vista of mountains that are even better then the ones you had just been through. I think they are called the Pinnacles.
I take a right and head south toward Banff upon intersecting Hwy 1. Stop by the turnouts to snap pictures of the mountain peaks so familiar to anyone that has seen promotional shots of Banff. They are much more impressive when viewed in person let me tell you. Get into Banff and gas up. Top off the camelback. It takes two liters. This is a cute little town. OK Sharon and I are coming here for a weekend before winter. I bs with a couple on a Harley from over somewhere near Calgary. I ask them if they have ever taken 40 north out of Hinton into Grande Prairie and how good the road is. The reply is, "All roads in Alberta are good". For some reason that reassures me and I decide on the spot that is the way I will go to Dawson Creek.
My only complaint about Banff is that they patch the roads with those tar snakes that grab your tires. I would swear that these snakes were moving, coiling up around your rim and trying to take your front tire out. Pretty spooky low speed escape from the main drag there. By this time the ambient air temp is reading 95 on my bikes temp gauge. I'm roasting my ass off in these perforated leathers. I'm also kicking myself in the ass for leaving the Phoenix at home. Not so silly after all, carrying all your gear, eh?
I head back out north on 1 toward Lake Louise the scenery is stunning all the way. Peaks on both sides of the valley. I turn off at Lake Louise snap a few pictures and proceed to the parking lot. The guy at the gate asks if I bought the parking pass at the entrance to one of the parks? So that's what they were selling down near Radium in the line that I was waiting in for ten minutes while some lady was bullshitting with the attendant and other people were just driving through while I was stewing in my own juices? No, sorry, those two are probably still down there bullshitting. He tells me I have to park in a special area and walk over to get the pass. I'm cooking, the traffic is horrible, I tell him I'll stop the next time I pass through, because if I don't get moving, the heat stroke is going to catch up with me! Actually, I'm thinking I know it is going to be beautiful and I'll have to save something for Sharon and I to see together for the first time. I'm currently thinking the same thing about the tram up at Jasper.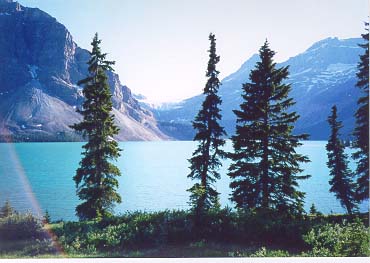 I head north out of Lake Louise on my way to Jasper. More stunning scenery. Shortly I see a sign that I'm entering YOHO park. Funny, I don't remember that along the route. I've got my map showing in the map pocket of my tank bag but I can't see it with my glasses on at speed. I'm near sighted and need glasses to see at a distance but they make it so I can't read. I have to stop and take my glasses of to read the map. Not willing to stop, I continue. Must just be a little section before hitting Jasper park I tell myself. Nice road, dropping in altitude rather quickly, temps continue to rise. I see a sign that says "Entering BC". That's funny, I don't remember this road dipping back into BC? I shrug it off and continue. The road gets very twisty and starts descending rapidly through a canyon. All of a sudden, I see a sign say Golden xx kilometers, Radium xx kilometers and so on. Well I knew I had messed up somewhere along the line at that point. I might as well as continue into Golden and evaluate my mistake.
I pull into Golden. The temp is now reading 105. I am melting down, I peel until I'm almost naked. The locals are looking at me kind of funny and saying helpful things like "You must be kind of hot, eh". OK, I see my mistake. There is a turnoff off highway 1 just north of Lake Louise that I missed. I'll back track and I can still make it to Jasper today. I'd better pay a little closer attention to the signs, it's not like Washington where you have several signs before the turn, there is just one and if you miss it because you are gawking or spacing out, it could be a while before you find out. I buy some more water, rehydrate and call Sharon to lament my stupidity. I find out that it's cooking in Spokane and points all around today.
Heading out of Golden I do something I rarely do, I go without protective gear. The question became, is the probability of and pain associated with skin grafts worse than the heat stroke that will surely get me should I suit up. Not a chance! I ride like the wind back to the turn off . Highway 1 between Golden and Lake Louise is a fun road when your just hammering through it.
I get back to the turnoff and get on the correct road headed north. Highway 93 that would be. I have to buy my pass at another gate now to drive the Icefields Parkway. No big deal, I'm just glad to be going in the right direction. Within five miles I realize what a good deal the 6 bucks that pass cost me was.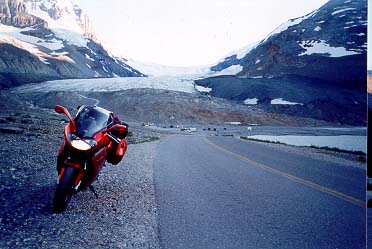 This is the most amazing scenery I've ever seen. This is much better than the scenery in Kootney or down by Banff. Everywhere you turn, your jaw goes slack as you gawk at the stunning beauty. It's almost like being at the bottom of the Grand Canyon looking up only the colors are different and there are glaciers everywhere. It's all around you. Mile after mile all the way into Jasper. Turquoise colored lakes by the side of the road with the jagged mountains and glaciers as a backdrop. I have always thought that the North Cascades was an ultimate scenic drive. That was until I drove Glacier National Parks Going to the Sun road in Montana. Both of those pale by comparison. Sure they are as beautiful in many respects, but they offer nowhere near the volume. We are talking a 100 miles of jaw dropping gorgeous scenery. Trying to describe the beauty is like that scene in Contact (that I always thought sucked) where Jody Foster says "Can't describe…So beautiful…". Well that would apply here. Can't wait for the trip back through on the south bound leg. If you haven't seen it, get your ass up there! Be careful though, there are a lot of accidents on that road due to gawking tourists. They don't pay attention or look while pulling back on to the road.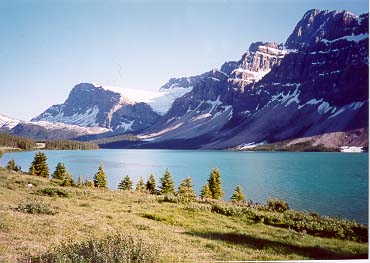 I meet a German tour group up the parkway a ways. I take their picture in exchange for them taking mine. Further up still, I meet two brothers on Harleys. One of them out of Edmonton the other living in Ontario. Talked with them and did the same photo exchange thing right in front of a glacier. Definitely some sibling rivalry in the bike department. Both were custom bikes. One had a monster S&S motor in it. They planned to make it back to Edmonton that night. It was already 7:00pm'ish and they were on the northern end of the Parkway heading south. Long haul.
Sun was setting as I was getting close to Jasper. I was worried about permanent eye damage as I couldn't avoid looking in that direction. It was right off the surface of the road and I was riding straight into it. Tried using averted vision to see the road, didn't work. At least if I was going to be blind, it would be at a comfortable temp. It dropped from the mid 90's through the 80's and into the 70's within an hour.
Made Jasper and did a pass of the town to get a feel for the motels and their occupancy rates (i.e. vacancy vs no vacancy signs). It was too late to look for and set up camp. Found a motel that looked reasonable. Grabbed it. Mt Robinson Inn I think it was called. Bit of a non-descript yet overpriced place. Of course most of Jasper is over priced due to it's proximity to and name association with the park. Went out for Chinese food. It to was kind of non-descript. Found a pub for a couple of beers after that. Nothing special other than I was surprised by how current the music they were playing was. At least it's current in Spokane. Hell it could have been an old timey music place for all I know.
Back at the Motel, my arm hurt due to a pinched nerve. Other than that, all in all the first day was a good one. Including my screwup that landed me in Golden, I put on around 650 miles. I was no worse for wear and tear and the bike appeared to be the same. This was encouraging. If I could keep up that pace, I could make it to Alaska and back no problem.
Day 2 Plugging along:
Didn't set the alarm and woke up with the sun since the drapes did not cut the light out worth a damn. Finally got out of bed at about 8:00. Open the door to the room and find an explosion of moths. Millions of them. In some places where they congregated, they were an inch thick. They were everywhere. Couldn't keep them off you. They were all over the bike. Boy was this going to be a nasty ride with these things splattering all over the face shield. Turns out this happens one day every year. This year it was worse than most. As I stopped to get some bottled water for the road ahead, the moths swarmed an adolescent girl sending her screaming into the local drug store.
Out of Jasper by 9:00 am I jump on Highway 16, the Yellowhead as they call it. This would take me northeast out to Hinton where I could pickup 40 north. Just a little way out of Jasper the moth problem tapered off. Didn't disappear mind you. There was a lot of wildlife on the road out to Hinton. Big horn sheep and Elk mostly. I gas up in Hinton by 10:00 am and head for 40 north. This was the one road that I was not able to find info on until I received my copy of the Mile Post. It's a long road with one stretch of about 120 miles that had no services. A town called Grande Cache was about a third of the way or 70 miles up which was where I would gas up. I was a little nervous and the thing that made me that way was that this was the first such long stretch of road I would encounter that would have no services for what seemed like a very long distance. When we are talking no services, that means nothing. Not a farm house, not a shack, not a wilderness lodge, nothing. As it turned out there was a mine on this road though.
I turned up it anyway and off I went. The road was nice. Wide clearings at the edge of the road, maybe 75 feet on each side. You could see a deer coming for a long way if it were headed out of the bush to intercept you. A few potholes and rough repairs but they were easy to spot and very minor. I made Grande Cache by noon. I was pleased with the progress.
I was gassing up and a bunch of bikers came in to do the same. Seems they were headed in to Jasper the way I'd just come. Looking at my visor they indicated that they weren't looking forward to the number of bugs down there. They were checking out the Aprilia and asking a lot of questions about it. I asked them about speed limit enforcement and one of the guys said "From the US why do you care". Just throw it away if you get a ticket. He was kind of joking. He said that the road north to Grande Prairie is a lot better than the road to the south that I just come over. He called it the Autoban of Alberta. He asked me if I was coming back through and I said I was. He owned the local liquor store and invited me in to have a beer and some food on my way back down. Just might take him up on it. Nice guys. They even had a Subway in Grande Cache. I decided to grab some quick food. I choke down half a meat ball sandwich and stuff the other half in my tank bag for later. Nice town and nice people in Grande Cache.
After lunch I'm off north on that long stretch of 40. Man was he not kidding, this is a nice road. The cutbacks on the road side increase to I would guess 200 feet and the road is smooth. It starts out with some beautiful sweepers and I'm just flying. About 20 clicks north, there is a coal mine. Just before the mine I see helicopters in abundance. I find out later that there is a lot of oil and gas exploration going on the area. After a while, the road straightens out and becomes about 90 miles of 90 mph cruising turf. Pretty dull ride that part.
A little over an hour out of Grande Cache I'm starting to see some civilization. I think, I'm must be coming into Grande Prairie. I spot the sign pointing to 43 west my planned route over to Dawson Creek, the start of the Alaska Highway. I move to the left lane and I notice this guy in a truck checking out the bike pretty intensely. He follows me as I make the turn. I pull into a gas station to top off and he follows me in. He pulls around in front of me and I could tell this guy knew what he was looking at. "First one I've seen up here" he says. "Yeah, they're not importing them yet" I say. He starts telling me about how they're trying, but the Canadian government is slow to get them approved. After that, we start talking about the Rotax motor and how Rotex has been around and are know for pretty reliable stuff, in particular snowmobile engines in Canada. He tells me about his trip to Laguna for WSB last year. I finish filling and he gives me pointers on where to turn heading toward Dawson Creek. Another nice guy. I'm off again.
The trip into Dawson Creek via 43 is interesting. It starts out as a freeway out to about Wembly. Keep in mind I'm getting pretty far north here. About the last thing I expected to see was a four lane separated highway in the northern half of Alberta. Fourty three passes through a lot of farm land on the way to Dawson Creek. I had read this but I did not expect to see that much. If I were to snap a picture, you would think it was taken in Iowa.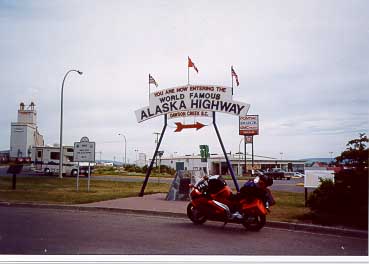 Make it into Dawson Creek and simply have to take a picture of the bike in front of the "Start of the Alaska Highway" sign. Of course it's a no parking area but that doesn't stop me. I cruise through Dawson Creek on my way toward Fort St. John. Nothing of note really stands out about this leg other than the fact that I'm on the Alcan and headed toward those remote towns that all have Fort in their names. At Fort St. John I decide to top off. Looks like Pink Mountain will be my next stop and it's a pretty good distance. Certainly do not want to be cavalier about your bikes range in this area. You could find yourself in for a pretty good walk.
The stretch between Fort St. John and Pink Mountain is of some note because the scenery was pretty. Not big mountains like yesterday through Banff and Jasper, but smaller mountains that you would crest and you could see for miles. It was on this stretch that the vastness of the area I was covering started to set in. Here I was almost two days out from Spokane, riding my little hoofies to the quick and I had not even reached the northern BC border yet! I'm guessing that it was 500 miles west to the next Highway in BC. Highway 37 also known at the Cassiar. It was probably 400 miles east to the nearest highway in Alberta. That would be 35 headed up to the Great Slave Lake and eventually Yellowknife. Between where I was and those points, if there was another human, they would be few and they would be involved in the Oil and Gas exploration business or they would be hermits who have taken to the bush on a permanent basis. We are talking a big area here folks!
I reach Pink Mountain and pull in for Gas. I fill and start chatting with the attendant. He is an oriental fellow who doesn't speak English very well. I say to him, in effect, "Your not from this area originally, what's your story"? He tells me that he immigrated from Korea and was studying to be a software engineer specializing in Oracle databases. He said that in Korea it's hard to break in the business in your 30's (which he was). I say fancy that, I'm a software engineer as well. When he heard that, he just opened up. He started asking me questions on Java inheritance and differences in C++ and all kinds of other things. Eventually I say that Pink Mountain is not exactly the area to break into software, he said that it was the only area that he could make a decent wage at this point, until he completed his course work. Another nice person. I saddle up and head for Fort Nelson, my destination for the evening. As I leave I'm scratching my head thinking, a Korean software engineer in the middle of the northern BC wilderness. Would I have ever expected that?
The next leg into Fort Nelson started to wear on me. Maybe it was that I had already covered over 500 miles. Maybe it's that I hadn't seen any sign of civilization in over two hours. Maybe it's just that it's a long way from Pink Mountain to Fort Nelson. Maybe it's that I would be coming up on a car to pass and they would turn off into the bush. Happened a couple of times. Where in the hell are they going? Is their an alien space craft rendezvous point and I'm the only one who does not know about it? Well OK, back to earth. Maybe it's that my reserve light came on. Hope it's not to far into the Fort…
I made it. Pulling into Fort Nelson, I see a modern looking hotel on my left. I grab a handful of brake and sweep into the parking lot. They have rooms for $99 Canadian (60 or so US). I'm in. This place is awesome. Like a nice newer motor hotel you would find in downtown Seattle. It's got a sports bar and a restaurant. I order the blackened chicken salad for dinner figuring it's time for a little ruffage after sitting on my fanny for two days. I don't know what I was expecting I would get. The food turned out to be great. I am stunned to find such a place in the wilds of northern BC. I head into the bar to have a beer and see what's going on. I bum a smoke off a guy standing by the door and start BSing with him. I forget his name, but he is a mechanic and a front end specialist at the ESSO in town. Another guy walks up and starts talking. His name is Ed and he turns out to be the owner of the restaurant. It's actually run by his sons. I tell him how surprised I am to find this place up here. They start telling me that the summer tourist season is their light time of year. In the winter when things freeze over is when stuff starts happening up there. That's when the crews and can get out into the bush and explore for new oil and gas. They were indicating that they get some pretty important people up there like oil execs who don't like to stay in a some pit of a place. They have been so busy the last couple of winters that they are adding something like 90+ rooms on. Who would have thought. If your in Fort Nelson, be sure to stay at the Woodlands Inn. If you see Ed around tell him Ron says hi.
The mechanic was trying to convince me that I needed to do a day layover at Liard hot springs which was just up the road. Meaning a couple of hundred miles toward Watson Lake that is. At this point distances like that seemed to be more of an afternoon leisurely jaunt. I told him I would consider it. I was asking when I get back into the mountains. The answer was just a 100 miles or so west. I tell him about my getting lost on the way to Jasper and winding up in Golden. He says that I need not worry about that anymore. Since I left Fort St. John, there has only been one road and if you get off of it, you'll know in an instant. Well there are a few more roads but point taken, it's the Alaska Highway and it's the only paved road through the area. If you accidentally took the Ross River road, you would know pretty quickly.
Later that night we started playing pool and I met another guy named Ron. He wasn't a local, but traveled extensively in the area. He was on holiday showing his wife around the areas he frequents. Nice people. Ron said that to truly experience the Yukon, one had to go to Dawson City. He was telling me to do the "Top of the World" road out of Dawson. I didn't doubt anything he said but I had pretty much already decided that with all the dirt road on the "Top of the World", the Futura was not the bike for the job. My discussion with him was helping me finalize my plans however. For every day I spent going north, I would have to add a day to get back. One more 600+ day would put me in Whitehorse Yukon, a place I've wanted to see since I was a kid. From Whitehorse it's just a short trip over the mountains to Skagway Alaska. I could make it back in three days of hard riding from there. The Cassiar (Hwy 37) would be an option on the way down as well. I'd make that judgment later.
Ron and his wife had plans similar to mine. We were going to head out early because the next day was going to be a long one. That was about 9:00pm. At 1:00 pm we were all still drinking beer and shooting pool. At 10:00 am the next morning as I was taking off, they were loading their car. Guess we screwed up. Oh well, best laid plans and all that rot. At least day two was another good 600+ mile day and the temps were such that I wasn't getting cooked. I'm making some progress, however I seem to be starting an hour later each day. This trend worries me a little. Hopefully it doesn't continue…
Day 3 The lads from Ottawa:
It was a nice morning in Fort Nelson. I head over to the place next to the hotel to gas up, top up my camelback and grab a big foil bag of dry roasted peanuts. The coming leg is one that I look forward to with much anticipation as it will take me through a number of places I've read about - the provincial parks of Telsa River and Muncho Lake as well as Liard Hot Springs. However, the biggest event of the day that I look forward to is the crossing of the border into the Yukon. Something about that name just evokes an image of the pioneering spirit. Maybe it's the hardship stories you read about of the gold miners coming out of Skagway, making their way through Whitehorse and up the Yukon to Dawson City. Having been raised in the Northwest and Seattle having been the jumping off point for much of that activity, we were inundated with these stories from a young age. Anyway, this is the reason I'm here and this will be the day that makes it all worthwhile.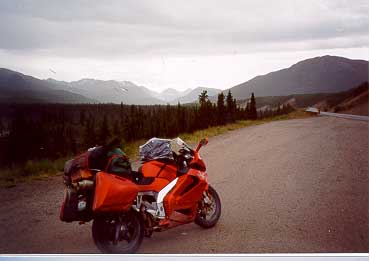 About 30 miles west of Fort Nelson the scenery starts picking up. You start entering the foothills of the Rockies again and the roads start to become more interesting. Within about 40 miles I start getting sprinkled on. I can see in the mountains ahead that some pretty good rain looks to be falling. I pull off and switch over to my Bellstaff jacket. I pull on my rain pants as well. My boots are the Alpinstar Stage gortex and should be water tight even though they have a good number of miles on them. Shortly after this and before Telsa River park, it starts raining. A couple of miles more and I start getting into fresh chip seal. Chip seal is effectively a mixture of sand and gravel that is spread in a patch on the road. The cars passing over it do the packing. Well in the rain, this stuff turns to mud. Not deep mud mind you, just a thin skim on the surface. It doesn't appear to be as slippery as one would think since it is over a hard pack of gravel that gives some traction. Still it can make you nervous if you encounter it on a curve. Makes a mess out of things as well. Going to have to do a deep cleaning on the bike when I get home.
Going through Telsa River I'm forced to slow to speeds of 30 mph at times due to the rain, the mud from the chip seal and the gawking tourists. This is a beautiful area so I don't mind to much. I'm doing a bit of gawking myself. A lot of wildlife in the area. Sheep and Caribou mostly. Some of these tourists are idiots though. They stop right in the middle of the highway to look at the wildlife. I have visions of a semi truck screaming around the corner and pasting their RV to the truck radiator. I get the hell out of the way lest I become the meat in one of these truck sandwiches. Very pretty park that Telsa River.
I gas up at my planned stop in Toad River. Chat with the guy a bit and I'm off toward Muncho Lake. The going through Muncho Lake was pretty much the same as the going through Telsa River. Lots of road patches having turned to mud, tight curvy roads and tourists in Winnebagos. I've done more bago strafing on this trip then I've done in 30 years of motorcycling up to this point. The rain is falling, but the clouds are high enough that I can see the mountain tops and I pull off at several road side stops to snap pictures. This is a pretty place. I was not aware of it until later, but the mountains around Muncho Lake form what is know as the terminal range of the Rockies. That is, they are very end of the Rocky Mountains. The northern most terminus of what begins in Northern New Mexico. I tell myself, I'll have to make it to the beginning someday. Never been to New Mexico even though my wife and I almost made it a number of years back. It was when airline fare wars just started happening in earnest. They were offering $100 ticket to anywhere in the west. We thought about where we had never been but would like to see. Santa Fe came to mind. We booked tickets into Albuquerque but work emergencies caused up to miss the trip. Those tickets sat on the kitchen counter and rotted. Too bad.
A few miles down the road and the temperature is dropping. It's now down into the high 40's and I'm begin to freeze my tits off. Fortunately Liard Hot Springs appears about then. I pull in and begin a process of evaluating my progress up to this point. Not good. I tell myself that I'll stop on the way back down. I break out my North Face jacket liner and put it on under my Bellstaff liner. There, that should keep me warm. From 105 in Golden 2 days ago to the high 40's today. Never would have planned for that.
I'm cranking now. The road is still a little on the rough side, plenty of pot holes to keep an eye out for but the rain is letting up and I can hit speeds of up to 70 mph were ever I can see ahead for a good distance. I pass through Coal River and Fireside. Then it happens, the big event, I cross into the Yukon. Of course I cannot resist the urge to park my bike in front of the sign snap a shot. I'm feeling like a pioneer, probably along with all the other tourists going my way in their bagos. I can't help but wonder what the locals must think about the tourists. We believe we are crossing a frontier. Probably causes them to yawn and role their eyes when they hear that.
About 20 miles from Watson Lake I hit the real crud. A 10 mile stretch of road construction. It's the weekend so very few people are working on it. The stuff is wet from the rain and the mud that formed in the part of the road that one would drive on has the consistency of snot. The edge of the road is very deep gravel. Not an option on the Futura. The muddy center has so many potholes that are arranged in such a random fashion that there is no way to avoid them. This is 5 to 10 mph for 10 miles. I almost dump the bike twice. Once in the snot, once when I probed the deep gravel for a better way through. I hope this is fixed by the time I come back through.
Finally I get to Watson Lake. I'm half way through what was planned for the day and I do a quick eval on my progress. It's about 5:30 pm. It's taken me over 7 and a half hours to go 300 miles. This is not good! I gas up all the while thinking that I'm not heading back down south until I hit some point in Alaska, Skagway preferably. If I have to stay here and add two days to the trip as a result then so be it. I grab some quick munchies and start talking to people that are coming in from the northwest. They tell me that the road all the way into Whitehorse is excellent. One guy tells me that if I'm going to do it, I had better get it on because the gas stop at Teslin closes at 8:00 pm. Teslin is a long way. Over a 120 miles for sure and maybe as far 150 miles the other side of Rancheria, my next gas stop. That's about as far as I want to push it with my gas load given I'll probably have a heavy hand on the throttle. Another guy gives me a map that has all the legs of the Alcan broken down into 300 mile stages with service stops clearly marked. He folds it to the leg for Watson Lake to Whitehorse and hands it to me. I balk at taking his map. He produces another saying he's got plenty. Very cool. Well, I'm in the land of the midnight sun, I'm not feeling horribly beat (in fact I'm starting to feel quite refreshed), It's a little after 5:30 pm now so I should be able to make the gas stop in Teslin, I decide to go for it. I'm pushing on to Whitehorse. With luck and good roads it should still be light in that area by the time I arrive.
I head out, planning for my first gas stop at Rancheria some 100 clicks (kilometers) down the road. Nothing really stands out about this leg other than the fact that the people were right, this is a good road. I light it up. Sometime later I pull into Rancheria. A guy is using the window cleaning tool to wipe mud off his head lights and tail lights. I say, don't bother you'll just pick up more if your heading south. Well he was heading north and had just come up the Cassiar Hwy. He said fortunately he had hit some clean rain that washed most of the mud off his car. Could have fooled me. He said that the Cassiar was a muddy potholed mess. I was afraid of that. Makes my decision easy, I'm not going that way on the way back with the Futura. Especially after almost dumping it in the snot earlier. The native gal who was working the counter was quite the character. She was telling me that I simply had to be in Dawson City next weekend for the music festival. It was the party of the year in the Yukon. To not be there is a crime. She and her friends up in Teslin go every year. She had just gotten back from school in Edmonton taking a pre-med program and she was ready to party. She talked my ear off. It was hard to get away but I didn't mind as she was very entertaining.
A little over an hour out of Rancheria, the road has already dipped back into BC, which it does for about a 50 mile stretch. I'd passed McNaughton Lake and I'm thinking, boy this is a long leg. I decide to stop and have some of those fine foil packaged dry roasted peanuts (which I'm still working on as I write this), a little water and rest my buns awhile. I'm standing on the side of the road and a Raven flies over. I look back down the road the way I came. I look up the road the way I'm heading. I realize that 50-75 miles in either direction there is nothing but trees, animals and pavement. No services of any kind, no homesteads, no wilderness lodges, nothing, nadda. That feeling of being remote hits me again and I begin to question my sanity. I start to think about how far I've come and what a long ride home it's going to be. I start to wonder how many brown (grizzly) bears there are in the area and how long it would take them to discover me as their next meal. At the same time providing a meal for that Raven that just flew over and is now squawking in a tree just up the road. I was raised in a woodsy hunting/camping kind of family. My great grandfather surveyed much of northeastern Washington in the early part of the century and his sons were miners in some pretty remote areas from the 30's up until the 50's. What I'm trying to say is that I'm comfortable in the woods most of the time, but I could swear the Raven was broadcasting the word "Food" over and over again.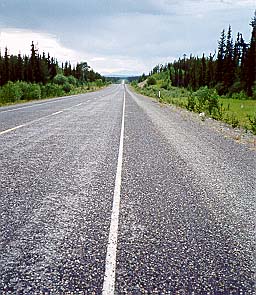 I saddle up and head out. Man is it a long way into Teslin. I'm not sure I'm going to make it by 8:00 pm. I'm not seeing many cars coming south and I'm not passing anyone heading North. Then I sweep around a bend and down a hill and on to a bridge. The Teslin gas stop is just the other side and it's open.
As I pull in I spot three guys standing next to their dual sport bikes (two KLR's and one GS). They're drinking a beer. I pull up and say something like "Wow humans and their traveling on two wheels". I get my helmet off, lament about the distance from Rancheria to here and how glad I am that the stop is still open. One of the guys asks if I want a beer. I say, yes. He reaches into his saddle bag, pulls out a Canadian and hands it to me. Boy does that taste good! I bum a cigarette as well. We stand around talking about motorcycles. They ask some questions about the Aprilia and admire it. I'm admiring the KLR's and telling them that I'm thinking about one as well and about all the after market goodies that are made for them. I tell them about my trip up Vancover island on a KLR the week before. Apparently everyone up to that point had been dissing their bikes. Philistines! I find out they're from Ottawa and have already put some 3500 miles of road behind them. They say they are going up the Dempster. Wow, I say more power to them, wish I were as well. One of guys said he had been living in Tuk and had traveled the road before. At that point, not knowing where he was talking about I didn't fully appreciate what he was saying.
I excuse myself to fill my tank before the pumps close. I don't think they would have closed at that point. I think I got some bogus info back in Watson Lake. I fill, pay and return to the group. Discussion drifts to how pretty the girl behind the counter is. Indeed she was a cutie. A little young being in her late 20's, but a cutie none the less. I tell them that I'm pushing through to Whitehorse and ask if they can recommend any hotels. Yes, I've pretty much resigned myself to motel camping at this point now that I've found them to be reasonably priced and plentiful. Not to mention that I'm far to lazy to setup a camp after 600-700 miles in the saddle. One of the guys says that there is a Best Western right next to a great bar called the Lizard lounge. They were originally going only as far as Johnsons Crossing and camping. This was due to the fact that someone had told them the weather was terrible up north with rain and hail. I said a little rain would be nice as it might wash some of the mud off me and my gear. They talk it over and decide on the spot to join me in the push to Whitehorse. Heck it's only a 100 miles up the road as someone says. They say they are not going to be able to keep up with me so they would just meet me in the Lizard lounge. I take off. I'm not sure if they will show, but I have to say, I would not trade that beer, cigarette and conversation for a meal in one of Seattle's finest restaurants with a group of old friends. That's how good it was.
The area between Teslin and Whitehorse has a much less remote feeling and more of a wilderness resort feel to it. Out of Teslin, your following Lake Teslin and it is beautiful. There are several wilderness lodges and a native salmon bake restaurant. I almost stopped, it smelled so good and I hadn't had dinner yet. It was already 9:00 pm but judging from the position of the sun, it seemed more like 4:00 or 5:00 pm. At Johnsons Crossing you leave the water for a while passing a couple of smaller lakes until you hit Jakes Corner where you are not far from Atlin Lake. In reading the Milepost I already knew that the town of Atlin on the southern portion of Atlin lake is referred to as the Switzerland of Canada. Doubt if I'll make it down there as it's dirt road. Need that Caponord again. Oh well.
Once you hit the town of Marsh Lake, you follow Marsh Lake and afterward the Yukon River all the way into Whitehorse. Beautiful ride all the way in. Just before you hit the city limits, you pass the turnoff to Skagway. I say to myself, that's the way I'll be going as I head out tomorrow. It seems like a long way from the time you hit the city limits to the time that you actually arrive in the city proper. 10 miles maybe. Upon pulling into Whitehorse I was delighted. It did not appear to be a tourist trap. It appears to be a pretty genuine place. Kind of reminds me of Colville Washington, one of my favorite towns down in my neck of the woods. The kind of place that should you wander into town and begin protesting activities that would affect the town economy in a negative way, you just might get yourself shot. A place that one can escape the tyranny of the minority so prevalent in a lot of places these days. You know, a real frontier kind of town. My kind of place.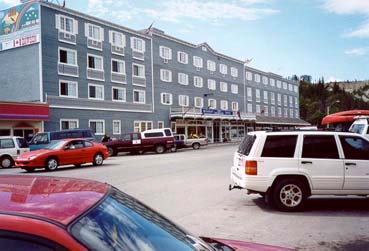 I make a couple of passes of the town looking for the hotel. The place is actually bigger than Colville I think to myself. The Milepost said the population was somewhere around 30 thousand or more than three quarters of the 40k population of the Yukon territory itself, so I guess this makes sense. I finally have to break down and ask directions. How embarrassing is that? The guy I ask directions from seems to be a very metropolitan and articulate kind of a dude. I thank him and I'm off. I find the hotel. Another nice looking place with kind of a western façade to it. They have a room they will give me for 89 dollars Canadian. Sweet, I'm in. I unload the bike putting everything on one of those luggage carriers you find bellmen using at nicer hotels. A push it up to my room on the 4th floor. It requires a room key to access the 4th floor, kind of like penthouse access systems you find at the better hotels in large cities. I find that my room is one of the high end Jacuzzi rooms. Someone make a mistake? I unload anyway, head back downstairs and ask the girl about it. She effectively says, sounds like a free upgrade? Cool! I head back up and give Sharon a call. It's coming up on 11:00 pm by this time but you couldn't tell by the sun. It looks like maybe 5:00 pm still. After I tell Sharon where I am and give her a run down on the days events, I decide to go find food. Head down stairs and who do I see at the desk, but the boys from Ottawa, most recently out of Teslin. They have decided to stay as well and are checking in. I like these guys, they role with whatever events come their way.
While they check in, I hang out in the lobby asking about the route over to Skagway. This results in drawing another couple into the conversation with the desk clerk. The girl comes up and introduces herself as Dorthy. Her boyfriend never did introduce himself. Anyway, she was a local and just full of information. She grabs some info on Whitehorse and Skagway off of a brochere stand and starts giving me the rundown on everything to do in Whitehorse and the surrounding area. She is just a veritable encylopedia of information. The info is coming at me so fast I can't assimilate it all. I just smile and think to myself, this is very cool, the first person I meet and have a chance to talk to and they turn out to be someone who is proud of their town and loves living there. I've found that to be uncommon in the past for rural areas, especially where young women are concerned as they often want to get the hell out. Dorthy is a one person PR machine for the town of Whitehorse. I thank her and step outside to smoke a cigarette I'd bummed earlier.
It's at this point that I need to introduce the boys from Ottawa. Their names are Jason, Brian and Leny. Leny is a retiring or recently retired para-medic. He doesn't look old enough to retire but he says he is 55. He's in good shape and looks like he could be an ex-marine. I would hate to have him pissed at me as you could get a real ass kicking. Leny used to be Jason's boss when Jason was a para-medic. Brian is an old friend of Jason's and runs a refrigeration company. He turned a lot of his business over to someone else in order to take the time for this trip. In his words, he's "Liven the dream". Most people I know would concur. Brian is one of those pretty guys that all the women seem to notice first. This is evidenced by the first showing of my photographs. My wife asks, who is that (pointing to Brian)? He is also one of the nicest guys you'll ever meet. Jason is a nurse who until recently was living up in Tuk in the Northwest Territories. Tuk is actually Tuktouaktuk but the locals call it Tuk. It's up in the arctic circle north of Inuvik. The only road out is a winter road into Inuvik over the arctic ocean when everything freezes. For those that don't know, Inuvik is at the end of the Dempster Hwy, a 450 mile long primitive gravel road out of Dawson City in the Yukon. Jason is taking a year off to tour North America on a motorcycle. I'm struck by how Jason and my brother Allan appear to be cut from the same cloth. My brother is currently working towards his masters and a nurse practitioners license while working in an ER. His plans are to do exactly what Jason is doing. Like my brother, Jason appears to be one of those fiercely independent adventurer types as well, which would explain his choice of residence. Jason, Brian and Leny are currently headed up the Dempster followed by the "Top of the World" loop then back to Ottawa. At that point, Jason is planning to make a trailer that he can carry his dog on. After that he, his wife and his dog are headed for California on the motorcycle (a BMW R100GS).
Anyway, the people in the hotel lobby tell us that the Lizard is shutdown. Well it may have a new name but something is there and serving beer as the lads checked earlier and it was open. Leny and I head for the bar to grab some seats and a picture while Brian and Jason run down the street for a pizza to eat in the bar. We proceed to eat pizza and bullshit about bikes and trips and anything else. Once we are good and lubbed, Jason starts telling us stories about living up in Tuk. Holy shit, I wish I had a tape recorder. I could have listened all night. He's telling us that some of the towns in the north can be a little rough. Rough doesn't mean that you'll get a good tongue lashing if someone is cross with you, it means that you may get chased with an ax or shot at. I knew this to be true already as a good friend of mine moved to Dillingham Alaska shortly after college. He came back with a similar report on his first trip back down. He loved it though and lived there another decade. He's currently living in Juneau.
As one of the few medical personal in the area, Jason gets to see it all. He tells about the first time he learned to reset a dislocated thumb. One of the locals comes in with both his thumbs pointing in the wrong direction. Jason cracks open the medical manual (after obtaining permission from the doctors in Inuvik) and follows the procedures with the first thumb. The guy says it feel so good. Jason says, all right then we'll do the other. He of course tells the story much better and when your about half lubbed it's quite entertaining. He tells a story about driving across the arctic ocean to Inuvik and finding an ice heave that made a superb car jump. They wound up playing on the jump and blowing off the trip. He tells yet another story about driving up the Dempster in the dead of winter with the road closed. He and a guy named Doug would just hit the drifts as hard as they could and hope to get through them. They made it to Inuvik and lived to tell about it.
I'm sitting there listening to these stories and thinking, what a poser I am. I come up to the north as a tourist and convince myself that I'm getting an understanding of the land, the people and what it's like to live there. I'm finding out that I haven't even scratched the surface of what any aspect of it is like. It would take a couple of years living there for you to really understand and if you didn't have a sense of adventure, you may never find out. The people that live there are pioneers in the truest sense of the word. Many of them live a life and have a life style that is as foreign to most of us as anything we could imagine. Most of us are caught in the endless cycle of making a wage, accumulating possessions and attempting to claw our way up to the next level on the socioeconomic ladder. The end result of this climb being that we reach a position where we have the autonomy and resources to live as if we were unencumbered by the rules that other people must live by. Freedom I think it's called. Many of the people that live in that area have taken a more direct route. Simply by virtue of where they live if for no other reason and trust me, there are a lot of other reasons. I share this observation with Brian and he appears to concur. Good we are now officially posers!
About this time, the bar is closing down. Leny, Brian and Jason told a story about the bar they were in down in Watson Lake the night before. When 2:00 am came around, the bar tender kicked all the locals out and said "That should satisfy the constabulary" ( or words to that effect). Then he started pouring free liquor. We had hoped that that might happen here. No such luck, we were being booted and we weren't ready to go. Hell the sun only set and hour and a half ago. We walk back to the hotel and stand in front smoking a cigarette while BSing some more. Suddenly one of the guys remembers that there is a fridge full of beer in their room. The saddle bag stock. Brian (I think) runs up and grabs the beer. Here we go. We continue drinking beer and smoking up all available cigarettes (I'm supposed to be a non-smoker by the way having quite over a year ago).
About 3:30 am this guy comes outside and starts a conversation with us. He looked like he was in his upper 50's or early 60's. I could tell right away the he was a character. I didn't catch his name and I regret that. He lives in the hotel and has something to do with a pipe line decommissioning contract. He's standing out there on the side walk with us in his bare feet and we are all drunker than skunks. It turns out that he an old old timer in the area. He's been to most places in the Yukon, Northwest Territories and Alaska many times. He starts telling us stories about places like Chicken Alaska among others and the people he's meet who have spent a little too much time in the bush. Then he and Jason start talking about different places in the area. It was fascinating to listen to. I wish I could give you a flavor for it, but it's kind of like taking pictures of awe inspiring scenery, it just doesn't come across. You have to experience it yourself. If you find yourself in Whitehorse, try to track this guy down and chat with him. Hopefully you will be as impressed and as entertained as I was.
It's starting to get light again and at about 4:30 the entertaining gentlemen goes back to bed. Some how the conversation drifted over to bears. How does one scare off a bear? Well bear bangers of course! Duh! I had never heard of them myself. Suddenly one appears. It looks kind of like a plastic case for a role of 120 film screwed on to a well built hollow (but sturdy) metal rod. There is a lever on the side of this rod that moves up down and around to the side. Ah I see, this lever must be the firing mechanism. Only one person knows how well they work and what kind of a racket they make and he ain't talkin. Only one way for the rest of us to find out. Someone (not saying who) pulls the trigger on this puppy. The film canister portion of it takes off like a rocket, flying…oh maybe 75 feet. A that point it explodes. When I say it explodes, I'm talking like a concussion grenade, only it looks like one of those white phosphor grenades as well with all the white smoke shooting off. Well, I don't think I'm exaggerating when I say that we all just about crapped our pants! We had to have woken up everyone in the hotel and probably a good portion of the town. We run back into the hotel. Within two minutes the RCMP comes screaming up the street. We're thinking that spending the rest of the night and maybe a few days following as guests of the RCMP is a distinct possibility. If they come in and start beating the truth out of us we might cave in so we start synching our stories. Five minutes pass and nothing. Jason and I step outside for a smoke and the RCMP is sitting up the street a couple of blocks. I guess this is how one acquires maturity, by making stupid mistakes. We tell ourselves we'll never do that again.
Well we are out of beer and hungry by this time. The desk clerk who had been watching this and interacting with us throughout the night, very nice girl (I won't mention her name so as to not get her in trouble) is now blessed with our company. I'm pretty sure she thinks we are lunatics. We are trying to find a bar or a place to get some food. We find out that the earliest time we can get food is 6:00 am and the earliest bar is around 7:00. It's probably 5:00 am at this point. Not like we need more beer mind you, but at this stage all reason is out the window. We are determined to find food at least. Brian tells the girl that he used to be a cook and if she would open the kitchen he would prepare a wonderful feast. We are all game but she's not biting. For a young girl she is amazingly tenacious. She fends of our pleas and begging. This even after we eat her hand made desert from last nights diner. A rice crispy treat. Jason is discussing how these are one of the great delicacies of the north and how this one in particular looks like it was made with great care as he divides it up. She didn't mind and was laughing at Jason's commentary. As we ate the pieces we were paying enormous complements to the chief. At the point she new we were certifiable and there was no way we were getting into the kitchen.
About this time the entertaining gentlemen is up again and out talking to us. At about 5:30 am the morning cook comes in to start his day. He goes into the kitchen. We are hanging on in anticipation of getting some food soon. After what seemed like about ten minutes, the cook comes out and says "Tell soandso that I fucking quit". He walks out and up the street. Jason yell's after the guy, "Who is going to cook my eggs"? The guy does not even turn around. I'm pretty sure it was nothing we did. He only saw us for 30 seconds on his way in and I don't think we insulted him. We assumed that it was something to do with cleaning that had been left from the night before and he was pissed. Anyway, that meant that we now had to wait until 7 am for something to eat. We decide to sleep for an hour or two and then get some food. So at 5:30 am it's off to bed. How do I remember the details of this evening you ask? I'm not sure that I'm accurate on every account. Perhaps the lads from Ottawa will read it and offer their version of events as well?
Day 4, My aching head:
I get back to the room and look at the clock. I know I'm not making it out of this town by checkout time. I call down to the front desk and ask if I can get the room for another night. They say no problem. I think to myself, well at least I was able to break that pattern of hitting the road an hour later each day!
Before I conk out though I'm still telling myself that I might make it as far as Watson Lake tomorrow. I tell myself I'll go to Skagway tomorrow, come back, take a nap then load the bike and head out. Looking at it now, I'm amazed at how convincingly I can bullshit myself. I sleep. I wake at 8:30. I sleep. I wake at 9:30. I sleep. I wake at 10:30. I sleep. I wake at 11:30. OK that's a good 6 hours. I'll try to get up. I still have recollections from the night before and I had such fun, I thought I'd better make some notes for my trip report. About 12:00 one of the boys from Ottawa calls to see if I'm still alive and if I want to have some breakfast. I'm all over that. I'm so hungry I could eat a bowl of lard with a hair in it as a good friend of mine always says. I really need something to absorb the tremendous volume of stomach acids. We meet downstairs. They had been talking about awarding me a Canadian (beer) shirt. Leny comes in and gives me one of his. I promise I will wear it. I'm relieved to find that they are in as much pain as I am. I make the statement, "It doesn't seem like we drank that much beer, I can't understand all the suffering today"? Jason responds with words to the effect of "I think we had 5 or 6 pictures plus the stuff in front of the hotel". Still I'm thinking, that shouldn't mess four adults up, not that much. It wasn't until a couple of days later heading back south that it dawns on me. The alcohol content of the beer up here is a lot greater that the 3 percent piss water I'm used to down south of the border. Well that explains it…
After a good steak sandwich, I think I'm alive enough for the trip to Skagway. It's only a little over 200 miles round trip. I decide to leave all my camping gear at the hotel. I head out with just the hard bags and the tank bag mounted. Bike feels a little lighter. Just at the edge of town, I hit Hwy 2 south to Carcross and Skagway. It's a good road. Lots of long sweepers. Prior to hitting Carcross I come across some very pretty blue colored lakes. They make a nice shot with the mountains in the back ground. I get to Carcross and make a pass through town. Pretty quiet place. I continue on. After Carcross, you start running along Tagish and Tutshi Lakes. The scenery once again becomes stunning.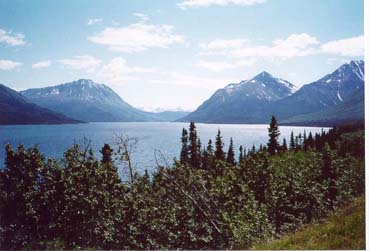 Very much like the Icefields parkway. Beautiful lakes with rugged mountains in the back ground. The scenery just keeps getting better as you ascend the pass. This would be a nice motorcycle road if there wasn't so much astonishing scenery to gawk at. You get to the pass and it levels out. the valley through the pass looks almost like a moonscape. Rugged rocky terrain with these Turquoise lakes imbedded in it. Glaciers in some of the peaks surrounding the valley.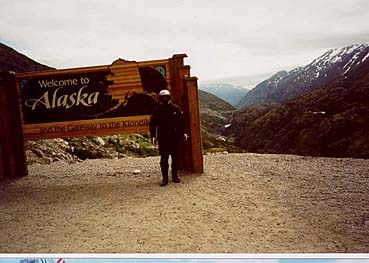 The decent into Skagway is equally impressive. This is one of the narrowest, windiest roads I've been on. Kind of reminds me of pictures I've seen of passes in the Alps. Once one arrives down in Skagway, the view is still impressive. Across the water are a series of peaks and one huge glacier. What a stunning setting! Not a large town as there's not much land with its back against the mountains and the front perched on a harbor. It is a bit of a tourist town though. Most of the businesses appear to be catering to them. Notice how I say "Them". Who am I kidding.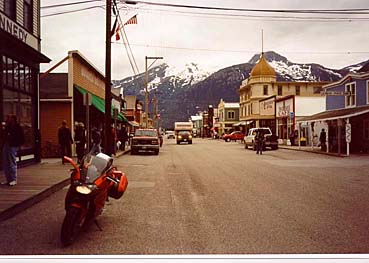 On the way over, the thought struck me. Another trip I've always wanted to do is the ferry trip out of Bellingham. As long as I'm here, I'll check it out. If the price is reasonable and the schedule conducive to mine, I'll do it. It will save me a 2000 mile slog back to Spokane and provide me with yet another wish list activity checked off. The more I think about this the more excited I become. I need to find the terminal. Not difficult in Skagway. Just head for the water and it will find you. I run in and talk to the guy at the desk. The ferry leaves tonight at 7:00 pm. It is currently 4:15 pm. No way in hell I can make it over to Whitehorse, load up and make it back in time considering I have to go through customs twice again. Those dam tour busses result in a pretty good wait. I even think about calling the hotel and having my stuff shipped to Spokane. Can't do it. To much invested. My hopes are dashed. I'm bummed. If I had only loaded up…
Well, I decide to head back and check my time on the way back. I had only one picture I missed that I wanted to take. From that point on, I'll treat it as a motorcycle road and light it up a little. Just about into Whitehorse and I realize that there is no way to make it back without an airlift. Oh well again. Maybe I can come up with Sharon or my brother and nephew at some point down the road. We can explore the area in more detail. Do the "Top of the World" and that sort of thing. Yeah, that's what I'll do. I feel better after telling myself that.
On the way over and the way back, I noticed my chain was slapping and is in need of a little adjustment. I plan on doing that as soon as I get back. I park in front of the hotel, get off and walk through the door heading for the elevator. I hear my name being called from the bar. I walk in and Jason and Leny have a couple of pints in front of them. This doesn't look like a good start to the evening boys! I tell them that I have to adjust my chain. Leny says he has to adjust his chain as well. They convince me to have 1 beer then we will adjust the chains. Hard sell on their part if you get my drift (meaning NOT a hard sell). Brian shows up in a bit. 4 or 5 beers later, we decide it's time to adjust the chains.
Jason had been saying that it is unusual to not run into anyone he knows in Whitehorse. Well, we walk out of the hotel to adjust the chains and who should come walking up the street but the wife of one of the guys involved in some of the stories we were hearing last night. Dougs wife. Doug was the guy bashing the snow banks in a rental Dodge Durango on a closed Dempster Highway. Well Doug was at a movie so his wife arranged a surprise meeting with Jason at the bar next door. We adjust the chains. I give Sharon a call and let her know that I'm still in Whitehorse. I think she is a little surprised. So am I. Sorry babe, I'll head back tomorrow. I want to get some food but we decide to head to the bar and await Doug. Jason starts telling us that the van they were traveling in was being worked on for over the last year and Doug was not going to leave Aklavik without it. He thought that meant Doug would never leave.
Of course it was a couple of pictures of beer before Doug arrived. In the mean time Brian was trying to talk me into joining them on the Dempster. That would be a tough ride on the Futura. Once again, If I had the Caponord I just might join them. When Doug arrived he was really surprised. Turns out that he got the van running by putting a Subaru motor in it and then escaped Aklavik with it by barge. They were traveling around and living out of it until they decided what they wanted to do next. He is a school teacher it sounds like he has a lot of choice in the matter. He did not sound like he wanted to do anything for a while though. Just explore and go where their fancy took them. The rest of us can only dream of such things.
I had an interesting conversation with Doug about the politics of the north. He said that when he first got there he tried to arrange a car wash to raise money for a cancer fund. No one showed. He was told no pay no show, in effect. He seemed a little disappointed. I asked him what he thought brought the original trappers and settlers into the north. He said very simply, money. The more I though of it over the next couple of days, the more I think he was right. We all like to think of it all as a romantic adventure. That is the way it is often portrayed in school. The reality is that only tourists engage in romantic adventures. Those that had to make a living there, had to make a living, period. And it wasn't easy.
We order another pitcher and the comment keeps coming up "This is how it begins boys". Referring to last night. Well listening to Doug and Jason's stories was something I would not have an opportunity to do very often so that was my justification for another. I'm betting that Leny and Brian felt the same.
It's 2:00 pm and they give us the boot again. We decide to go for food. There is a Chinese place that Jason remembers so we decide on that. The Great Wall it's called. We did not know where it was so we flagged down one of the native kids walking by and asked. She said that she could show us. We start walking and her boyfriend disappears. Leny, having lived in Whitehorse back in the 60's, knew what a rough town it used to be. The disappearing boyfriend made him nervous. The possibility existed that we could get rolled. We walk and walk and walk. Things are not looking good. Then all of a sudden we arrive. It turns out that it was just a the other end of town. We invite our guide to join us. She's not to excited as it seems this place had been cited for serving cat in the past. She joins us anyway. Doug caught up to us in the van and decides to join us. His wife and son were sleeping. We order one of those monster dinners for 6 or 8. It has almost everything. I'm pretty sure that the shrimp dish is shrimp and the noodle dish is noodles and the veggie dish is veggies and the egg roles look OK, I'm not to sure about some of the others. The pork dish looks like cat long bones to me. The chicken in the breaded chicken ball dish is not that white tender chicken. The native girl has stopped eating. Brian follows shortly after. Leny shortly after that. Jason, Doug and myself continue. It's not until afterwards that I wonder what I just ate. Hmmm, might have to take some stool sample in for analysis when I get home…
Doug had his van in the parking lot and gives us all a ride back. It's 3:30 pm before I get to bed!
Day 5, the Escape:
I wake up at 8:30. Knew I needed more sleep and tried to sleep until 9:30. I gave up. I had to get out of this town before it killed me. Well maybe that's a bit strong. I had to get out before Brian talked me into taking the Futura up the Dempster or before I decided to stay in Whitehorse. It would not be that hard of a sell to get me up the dempster. Had I had the Caponord I would probably be asking them if I could join them. As for staying, I like the town and I could live here without a second thought.
I think about calling the lads and saying good-byes, but we said those last night. I'll let them sleep. Not sure how far I'll make it today, but I load up and head out. Knowing what a good road it is into Watson lake, I light it up running 90+ most of the way down. I get tired after a while and crack my visor to let a little more air in. I think about taking a nap by the side of the road occasionally, but it's raining by now.
I get to Watson Lake some 4 or 5 hours later. After some water and a snack, I feel somewhat refreshed and decide to push through to Fort Nelson. The ten mile stretch after Watson Lake is in much better shape that it was on the way up. Man am I thankful. Same applies to the path through Muncho Lake and Summit Lake areas. Still slow going. Way more wildlife than on the way up. Caribou and sheep were all over the place. Had to be careful. I had to stop every 75 or so miles just to clear my head as well. What a long punishing trip.
Made it in to Fort Nelson by 8:30. I head to my favorite restaurant again. I'm reflecting on another conversation I had with Doug last night. I ask him about his front window. He calls it arctic art. I think is was Jason that said the van was sitting out in the winter and someone cracked it with a baseball bat. He painted the spiders with blue nail polish and now refers to it as arctic art. Funny. They said that type of thing happens all the time. If your gone or you leave something out, it's fair game. They indicated that even the RCMP might be responsible for breaking into your house if you abandon it over the winter.
As usual, the better part of any trip in my experience is often the things you can't plan for. What kind of good karma resulted in allowing me to meet and hook up with these guys. I have learned more and had more fun in the last two days than I've had in the last year.
To bed early. Maybe I'll cruise by Tumbler Ridge on the way back if it looks like I have time.
Day 6, Pushing through:
Boy did I sleep, like a baby. Up, loaded and on the road at the crack of 11:00! Don't think I'll make Tumbler Ridge. I'll just be blasting back 40 again instead. It's pissing down rain as I head out. I don't mind as the cool temp feels good. Feels good right up until I get stuck behind this one truck. I just can't seem to get around him. He's throwing off a blinding volume of spray that seems to consist of 50% mud. I'm getting caked all over again. I'm cursing in my helmet. Finally I get around him. Hopefully the clean rain I'm in now will wash off some of that mud.
Within 20 miles out of Fort Nelson, an RCMP car goes screaming by me with the lights flashing. Kind of startles me. I hadn't been watching my mirrors (like I should have) as I've been the fastest vehicle on the road lately. Another one comes up and passes me. I'm thinking that there must be an accident down the road. Sure enough, another 5 miles down the road is an accident. Judging from the description of what it looks like when someone hits a moose, I knew what had happened the moment I saw the car. The elderly couple had hit a moose. It came over the top of the car and smashed the roof almost to the dashboard. They survived, but they were in serious condition. I've never seen so much blood in my life, most of it from the Moose I would guess even though they were bleeding profusely as well. They were sitting in camping chairs that someone provided and were wrapped in blankets. Someone was holding the lady's head as if she had a neck injury. My heart goes out to them and I hope the come out of the ordeal OK. After this scene, I started to become very paranoid of wildlife on the road.
Filled up at the fuel stop just before Pink Mountain. Chatted with some brits from northern England who were just returning from the "Top of the World" drive. Their perspective on distance had changed even more than mine. One of them said, "We could tour our whole country in a day now".
Saw my first wolf in the wild. it was crossing the road just after Pink Mountain. Saw a black bear with two cubs a couple of miles past that. A number of large deer around and even some Caribou to be seen on the way to Fort St. John.
The trip from Fort St. John through Dawson Creek, Grande Prairie and Grande Cache into Hinton is a bit of a blur. With the exception that I was extremely paranoid the last leg from Grand Cache into Hinton after seeing that accident up by Fort Nelson this morning. Didn't stop by the Grande Cache Liquor store to say hi due to the late time. Oh well again.
Talked with a German tourist while I was unloading at the hotel in Hinton. He was telling me how wonderful BMW motorcycles were. He couldn't speak much English, but he loved his boxer motor. He told me that he had crossed the Alps north to south and east to west on it. He said the it had over a 100,000 kilometers on it and was still running strong. I wanted to say that I could blow his beemer into the weeds on my Aprilia, but he was too nice of a guy. Besides, I was smoking a cigarette that I'd bummed off him.
Day 7, the final leg:
I get loaded up and out of Hinton by 9:00 am. Filled up in Jasper and headed for the Icefields Parkway. It was like looking at it all over again. Different angles and I saw different mountains. I could spend a month here with a camera.
I cook through the parkway gawking occasionally. Get to the 93 turnoff and drop into Kootney park. After a few miles, I look at my gas gauge. I'm down to about a quarter of a tank. I'm not sure how far it said to the next gas stop, was it 100 kilometers or 50? I know Radium is 100. I can't make it that far. Should I turn back? Must have been that head wind I was bucking and being hard on the throttle at the same time. I'll continue. Oh shit, I'm on reserve. I get that sinking feeling that comes over one when one knows they are screwed. They say the same thing happens to an animal in the jaws of a lion. They resign themselves to their fate and just give up. I start psyching myself for a long walk. I'm counting down the miles until that sputter. I can't bring myself to stop as long as I have even one drop left. But wait, what light round yonder curve breaks, It is a lodge and I am ecstatic. I pull in and ask the two girls at the desk where gas can be found. The say Radium 60 clicks to the west or Baniff 40 to the east. I say, I am on reserve and will run out in a mile or two. One of the girls exclaims, wait, I think we have emergency gas. She runs into the back room and emerges with a half full 5 gallon can. Fifteen dollars for what's left she says. Oh what a lucky bastard I am…
I stop in Radium and talk with a couple of guys. One on a Harley and one on an ST1100. They are on their way back to Calgary from the Laguna round of the World Super Bike races down in Monteray CA. We have about the same distances home after traveling close to the same miles. Sound's like Laguna was good this year with Bayless and Edwards splitting. Kind of sounds familiar doesn't it? Sounds like Haga had a hard time of it. Crashing out in the first and being taken out in the second. What a bummer.
I leave them and continue on. Nice run down to the border. I'm following a lady that must really know these roads, she is flying. I'm making good time just staying a ways behind her. Cross the border and stop in Priest River. Some real scholars hanging out around the gas station. Wonder where people learn that dialect of English. Kind of early trailer trash/meth addict. Never noticed that in Canada regardless of how rural the area was. A group of motorcycles pull in and the scholars move on. I BS with the motorcycle folks for a little bit. They are on a day ride out of Sandpoint. They comment on how filthy my bike is. I tell them where its been. They start asking lots of questions about services, roads and such. All the same ones I was asking a couple of weeks earlier. One guy says it's a dream of his to do the Alcan on his motorcycle. I tell him to turn the key, point north and twist the throttle. That's all it takes.
I can swear that the closer I get to Spokane the more my fanny hurts and the more restless I become. I want off the bike bad. I'm telling myself not to get to excited, I'm almost home. Let's not have an accident. Kind of like mountain climbing, most accidents happen on the way down. Keep your head about you dude. About that time I blow by a couple of Harleys at a high rate of speed and I'm thinking I'm going to be in real trouble if I get pinched. I pull into my driveway, the gravel is deep and it's about 1200 feet to the garage (I live on property in a semi rural area), don't dump it here if you can help it. I pull up to the garage and Sharon runs in the house to open the garage door so I can pull in. My dog is standing there looking at me. I'm thinking, OK I'm home, I can get off the bike now, I'm back in the real world. I get off the bike and the first thing out of my mouth is something like, "Well that's about the stupidest thing I've ever done". I think Sharon understands that when I say "Stupidest thing I've ever done" I really means "One of the most outstanding adventures I've ever had". I give her a hug and a kiss.
After a couple of days working on this trip report, I have a hard time finding an appropriate ending. As a software guy I tend to fall back to a logical structure that enumerates the components of the trip. I guess that's how I'll end it. With a slightly modified version of my preliminary trip report.
4000 miles in 7 days. Having looked at maps for years and wondered what was up there, the purpose of the trip was to go and find out, meet the people that live there and have fun. That's just what I did and in the process these are just a few of the things that I discovered and will carry with me forever more.
Distance has new meaning. Never again will I consider a trip to points in the northwest as a long ride.
The term "Remote" has new meaning. Few places in the lower 48 are as far from anything as when you are half way between Watson Lake and Rancheria or Rancheria and Teslin in the Yukon. When we are talking about the Dempster heading to Inuvik or the road to Deadhorse nothing down here even comes close. When we are talking about places like Tuktoyaktuk (Tuk to the locals) and Aklavik, there are not many places in the world that compare in terms of remoteness.
One of the more beautiful and diverse countries on the planet exists right here in North America. It's name is Canada. For beauty, checkout the Icefields Parkway in Alberta or Muncho and Summit lakes areas in northern BC or the vast unpopulated stretches of the Yukon and the Northwest Territories. For diversity, contrast a bustling modern metropolis like Toronto with millions of people to a provinces like the Yukon or Northwest Territories that have populations barely exceeding forty thousand yet land areas 5 times the size of Washington state at the small end of the scale.
I've always believed that more good shit happens than bad and that spontaneity is a good thing, this trip reinforced that belief. As I said earlier, I had researched the route as much as I could and attempted to prepare for eventualities but beyond that I was not worried about how far I got, where I stayed or what I saw. I wanted to let the weather, the road conditions and the people I met along the way determine where I went and when I got there. Meeting the guys from Ottawa was an example of how good things can come from under planning. Rolling with the events as they materialize can lead to new discoveries and the building of new friendships.
I will always try to be prepared to have my stereotypes blown away. I don't know what I expected the locals be like, maybe like the inhabitants of some place like Priest River Idaho maybe. Not so, even those that spend a lot of time in the bush are well educated and articulate. Hell a lot of them are downright poets and philosophers. Probably get a lot of hate mail from Priest River with that comment...
Speed limits in remote areas are just to provide tourists with a comfortable frame of reference so they don't start thinking about where they are and how the city rules do not apply. The RCMP doesn't give a shit how fast you go out there. All they care about is having to scrape your parts off the road. They are human too and dealing with the tragic things people do to themselves has got to be one of the major downfalls of the job. My bike likes to cruise at about 90 in case you're wondering.
Moose do serious damage! Watch out for those animals along the side of the road. If you've read the trip report, you already know about the elderly couple that hit a moose as well as the amount of wildlife in some areas. Be careful out there.
Never assume that the prior observed behavior of mechanical devices is a predictor of the future behavior. To me that means "Check your fuel gages on a regular basis". A heavy hand on the throttle whilst bucking a head wind can cause fuel to be burned at a incredible rate. This is not a good thing when it's 100 clicks to the next fuel stop and your reserve light comes on!
We all like to think that our ideas are unique, not so. With mine anyway. Judging from the number of motorcycles I saw both going up and coming down the Alcan that is. There are a lot of like minded individuals out there.
Most of us are just a bunch of posers. You've heard this story and if you haven't, go back and read the trip report. Being a poser is not necessarily a bad thing. It indicates that you're getting out and becomming involved. That's a good thing.
It's not necessarily the destination that's relevant, the trip there and back can be equally relevant. In this case even more so since I was not sure what my final destination would be when I set out. The sites I saw and the people I met along the trip bacame far more relevant than the destination.
You can find out all kinds of interesting things by just talking to people. Some people are assholes and won't respond. Some are caught in their own little moment and offer little response. Some are conditioned to only exchange pleasantries and answer direct questions in conversation with people they don't know. Occasionally though you encounter individuals that open up the moment a conversation is initiated. These people seem to be interested in everything around them and they offer you the opportunity to discover new worlds. I will try to seek them out.
I know it sounds trite, but "Just doing it" is the secret. Get the off that couch, point the machine, turn the key and twist the throttle. That's all it take's. Don't wait for your mates to discover this and offer to join you and don't spend an inordinate amount of time trying to convince them of the fact, just do it.
I am a lucky dude. I'm lucky because I have a wife that doesn't balk when I tell her I'm going jump on a motorcycle ride 2000 miles just to see what's there. This in spite of the fact that motorcycles are not something that interest her. I'm lucky because I currently have the financial resources to jump on that motorcycle and my IQ is low enough that I don't even think twice about doing it. I'm lucky to have made it there and back in one piece. I'm lucky to have had no mechanical problems along the way. Having gone there and back, as some have already done, my feeling is that there is nothing greater than the anticipation of what you will discover. Just the feeling that you will be an adventurer, out discovering new things and experiencing what real freedom must be like. Nothing greater save returning home to discover that the most beautiful women you've ever known is still there and still appears to accept you regardless of how low your IQ is. Life is good.
Live large and have fun -- RonS