2005 Ironbutt Rally Photos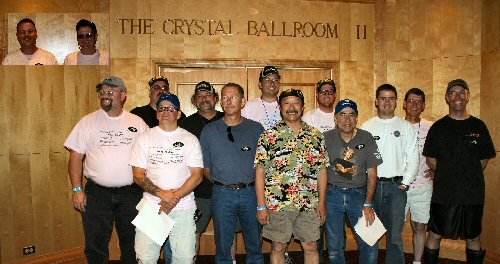 I start with a group photo of the boys riding Yamaha FJR1300s -- I have a fondness for that marque, having owned one myself for several years and having created the FJR1300.info Website to support them. Warchild also runs a couple FJR Websites: FJRTech.com and FJRForum.com. We like FJRs!
The riders are, from left to right: George Zelenz, Rick Martin, Doug Chapman, Tom Melchild, Bob StGeorge, Warchild (Staff), John Ferber, Matt Watkins (Staff), Dean Tanji, Tobie Stevens, Harry Kaplan, Andy Mills, Roger Van Santen (Staff), and Peter Hoogeveen.
10 of the 11 FJRs that started also finished. Andy Mills was the victim of a chunk of truck tire at 2:30am on the last night, which threw him and his FJR onto the pavement of I-80 near Green River, Wyoming, totalling the bike, and leaving Andy with some severe roadrash and bruises. He tried to borrow a bike after he got out of the hospital in the early hours of the final morning, but had no luck in that regard. He was easily on track for a top 10 finish, too...
Copyright © 2005 by H. Marc Lewis
All rights reserved.