7th Annual Can-Am Classic
Wenatchee, WA
July 30 - Aug 1, 1999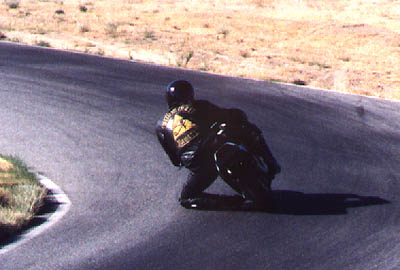 Ron West's Photos: Friday Practice Saturday Sprints Sunday 3-Hour Endurance

Havoc's Photos
Race Results

Race Report by Havoc:
Well, it's been a week, but I'm finally recovered enough from
Wenatchee to write a decent report without the haze of pain that
colored my past few days. Is that a whine? Still, if it's the price for
a fantastic time, so be it, that's what drugs are for...just remember
though, when you're young and do lots of crazy things knowing it
will hurt later in life, that time _will_ come, so enjoy things to
the max while you still can! *sigh*
Enough of that...on to the report:
The week prior to the 7th Annual Can-Am Classic was for me, a week of
anticipation and preparation, especially that of my #501 bike, which,
with a basic motor from Chris, and my pile of parts, was hopefully going
to be my stock/supersport ride at Wenatchee - after much tribulation,
I got it all together but discovered to my chagrin that I'd assembled
the clutch wrong and it wouldn't disengage. Ball bearing missing. Took
it apart, fixed (I thought) and reassembled Wednesday nite, no time to
test before heading out the next morning, but it _seemed_ to work ok...
With Ron West helping haul bikes, I didn't rent a van this time, just
stuffed everything (two bikes, EZ-up, tools, gear etc etc) into my
ancient pickup and headed out Thursday morning. The weather stayed
blessedly overcast and cool until crossing Stevens Pass, but by the time
I pulled into Pangborn Speedway it was sunny and in the 90's, and stayed
that way throughout the weekend.
Lots more people were there Thursday than the previous year, I was glad I
decided to come early...set up the pit area in the infamous Wenatchee
wind, had to tie the EZ Up to the truck to keep it from blowing away!
Ron and Jen showed up with the rest of the bikes - theirs, Seth LaForge's,
Squido's, and Wendy's Zephyr - and we generally hung out and schmoozed
with the TCR crew and folks from Sacramento and Nevada late into the nite...
Friday morning the track opened for practice and I got out there about
9am on 501, only to find the clutch slipping constantly! I'd apparently
put an extra washer in when I put it back together Wednesday nite, Doh!
I hate wrenching, I only do it of necessity as I can't afford mechanic's
fees, plus it makes my back injuries hurt so I just bagged it for the
day and went back out on Spawn (YZR80) and Zephyr (50 Supersport) for
the rest of the practice session. Spawn would be a fast bike if I ever
get the nerve to ride it well, but it's good training at least, makes
riding the 50s seem easy! The weather got HOT fast, so I would practice
for a while, rehydrate, soak my tshirt with water, and go back out again,
over and over! I got at least 6 hours of solid riding in between 9am-6pm!
Yes, excessive, I know...
During that time Blackbear arrived on the Monster and got in some good
practice, Ron worked ceaselessly to complete his bike, and finally got
it going after much ado over carbs and other things...Squido's bike ran
strong, despite SIR gearing and a choppy front suspension, but for me
the best part was discovering just how _well_ Zephyr ran, strong and
smooth! I've never really ridden this bike much, but it proved to be
"old reliable" once again, and was a joy to ride! Spent some time
riding with Liesl Barkley from Nevada working on cornering and hanging
off - she really improved in just the afternoon, you go, girl!
By the end of the practice session I was thoroughly whipped, but had
gone around the track faster than I ever had before, and was feeling
much more comfortable with riding close to others, which I've had
trouble with in the past. Also, got great advice from Kyra Geuting
to quit looking back so much, it was throwing off my lines...I've
been basically a rolling chicane in the past, and got in the habit of
looking back in case I needed to get out of the way, but no more, eh?
Thanks, Kyra!
Instead of being sensible (who, me?) and chilling out that evening,
I decided to fix the 501 clutch problem so I could ride it in the
Sprints the next day...good intention, but between the darkness and
my fatigue I reassembled it wrong _again_ not once but twice, so by
the time I finally gave up, it was midnight and I was in pretty
excruciating pain from my back...I took a Dilaudid and a Motrin and
went to bed...
The next morning I was having a delightful dream in which I was being
kissed by a pretty girl when Blackbear wakes me up for coffee! Argh!
Sorry, BB, didn't _really_ mean to bite your head off so bad! sheesh
Getting up I was if anything hurting even worse, 8-9/10 on the pain
scale, ow! I hobbled over to the TCR pits and had one of the nurse
racers there give me 30mg of Toradol, deep IM in the butt, ouch. Thanks,
Barb! That and Ketoprofen 75mg basically tricked my body into thinking
it was ok, so I entered three classes for the Sprints - Supersport, Superbike
and Open GP, heh! As Open GP rotated to Supersport I chose not to run
the transponder, I knew I'd be last anyway, as that made one less detail
to worry about what with having to come in and go right back out again
in Supersport...
A word about these transponders, they were _excellent_! The software
compiled not only everyone's lap positions but also lap times for
_every_ rider for _every_ lap, which was then printed out for everybody
to have their own sheets right there, a really good deal! They are
from "AMB Identification & Timing".
In both Supersport and Superbike I pulled consistant 55's and an
occasional 54 second lap time. Plenty of close dicing, a few shoulder
bumps, no oopses. Came in 8th out of 11 in Supersport and 11th out of
15 in Superbike!
In Open GP I was hopelessly outclassed, and only ran the transponder
for the 3rd heat, pulling 54's and one 53-second lap in a field where
the leaders were pulling 44-45's, yikes! Still, it was a hoot, and
Spawn is great training for me...someday I'll ride as fast as _it_ can,
it ran strong all weekend...and _loud_, with the Briggs & Stratton
"silencer" replacing the old can which burned through at SIR.
That nite was the infamous party, fun for all! Neighbors to the track
have been complaining about noise, go figure, so the potato gun wasn't
brought out, but there was towed rollerblading a la Rollerball, and
the Naked Pit Bike Ride returned in full flesh, I mean, force!
I was determined to do _no_ mechanical work that evening and give
my bod a break...
Next morning I felt way better than the day before, though sore - my
hands were bruised from gripping those little wusser bars the past two
days!
After asking and asking for input for a name for our endurance team,
nobody offered anything so Team Spooge it became! Me, Seth, Blackbear,
Kyra and Liesl did the honors. Great to have a real racer (Kyra) on
our team, she took 2nd in the Women's Sprints, hard fought with Barb
who took first...
This year it was a _three_ hour race! We chose Seth's #333 bike as
the strongest and smoothest - with a new top end it is really hot!
However, "333" is the number of "Choranzon" the demon that dwells
in the Abyss, and 11 laps into the race it lived up to its name by
losing power and becoming a pretty dangerous rolling chicane...after
over 30 min of unsuccessful repair attempts we made a decision that
as we were clearly going to be last, that we'd run Squido's bike,
#303 and at least get to ride, eh? Figured if they disqualified us,
fine, but who wanted to sit the rest of the race out? Not us! So
out we went again - the front end was very choppy, but despite that
Kyra turned consistant 54's and 53's, I turned 54's and occasional
53's, Seth turned 55's and 56's, BB and Liesl 57's and 58's!
We did 145 laps for a solid last, but didn't get DQ'd so we were all
happy that we'd got to finish at least!
The weekend racing done, awards were passed out and everyone packed
up for home. There was a 30 mile detour between Leavenworth and
Stevens but I still made it back in time to pick up my Dobie from
Rosehedge and get home before dark! (No headlights, gotta fix that!)
The next few days I was in a lot of pain still, not very happy, so
I've waited till things finally settled down to write this report...
I still need to get #501 running in time for Spokane over Labor Day -
see you there!!
Thanks to everyone for the great comraderie and help - this is
an event where all you have to do is ask for help with something
and there are people swarming with advice and assistance! Made some new
friends, and I hope to see them in Sacramento in October for more racing!
Ian Carcosa #H23