Spokane Raceway Park
May 8-9, 1999
WMRRA Round 2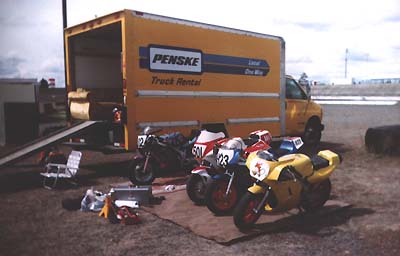 Infield on the Oval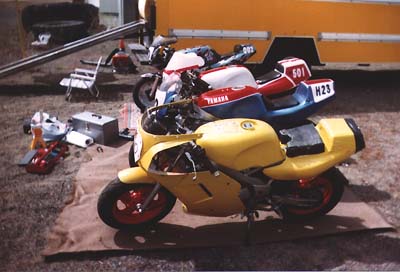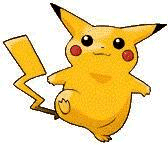 Pikachu!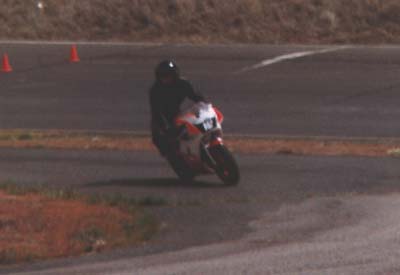 Ruth Constantini in Turn 3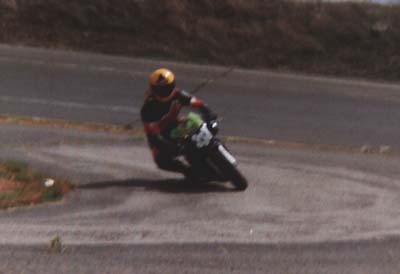 Seth La Forge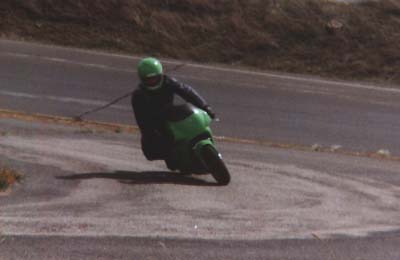 Chris Hoover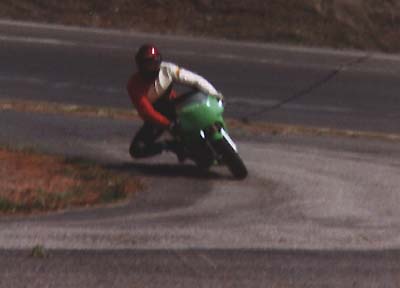 Todd Paulson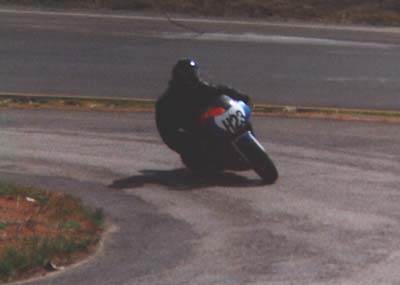 Ian Carcosa (h23)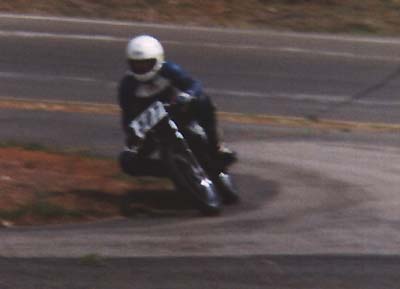 Ralph Redding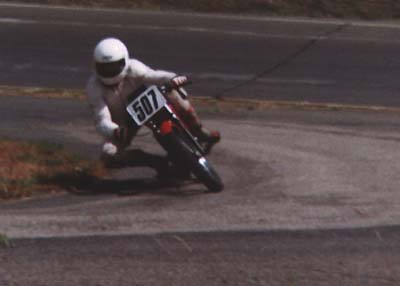 ?? (Help me out here Ralph!)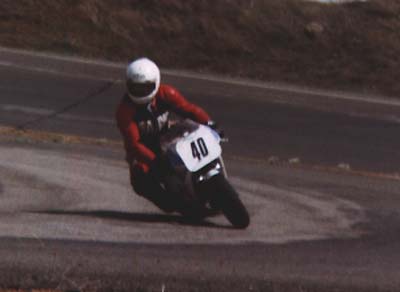 Charles Clinton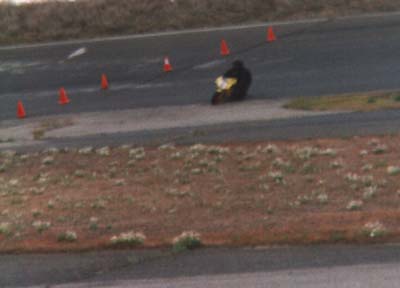 Havoc and Pikachu in Turn 2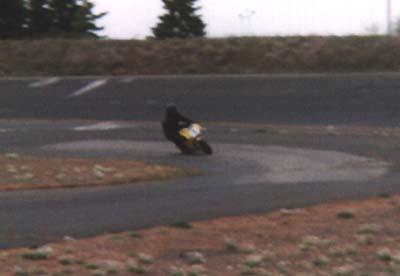 Turn 3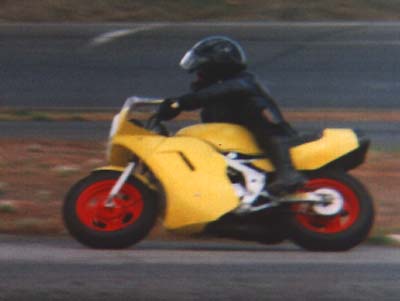 Zoom!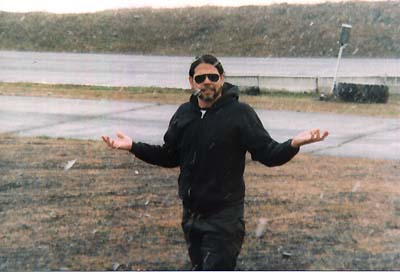 Raceday..this is May?
NW-YSR

Date: Tue, 11 May 1999 22:50:18 -0700
From: havoc23 <carcosa@eskimo.com>
Reply-To: nw-ysr@micapeak.com
To: Northwest YSR-50 Enthusiasts <nw-ysr@micapeak.com>
Subject: [YSR] Spokane race and snow report

Thursday I spent prepping bikes - mainly converting my streetbike to
the newly christened "Pikachu", OSHA Yellow paint, decoupage PokeMon
on the tank and Raichu (evolved Pikachu) on the number plate and all!
I knew we'd be in for an interesting time when I heard the weather report
on Friday morning, that the snow level in the pass would be dropping...I
picked up what I thought was going to be a cargo van from Penske but
turned out to be a 15' truck instead! Tacoma is doing it's "household
pickup" days and on the way home I saw a couch...hmm...turned around, in
the back it went, I've got the room after all! Loaded up three YSRs and
the requisite ton of gear, and up to pick up Seth and his bike...drat, the
truck is governed to 65mph! From Seth's over to Rosehedge to pick up
Zephyr, making 5 YSRs in the back! There Seth had the brilliant idea to
examine the speed govenor...and look! A clearly marked unit with a snap
connector! Unplug! Much better!
Over the pass, no snow...the rest of the drive alternated sleet, hail,
lightning, etc...lovely...pulled into H. Marc's around 7pm...
Morning came early and out to the track we went! Grabbed a leafblower and
set to clearing off the kart track, which to our dismay was shortened due
to a drainage pipe covered with dirt where we had entered the oval last
year...o well, at least there was still a useable alternative...
Chris and Todd showed up and helped finish clearing things off, and
practice was open! First I tried out the DT80, which promptly started,
backfired, and died! Dammit... The popular theory is that the Woodruff
key backed out throwing it out of timing...I'll let you know when I get
around to taking it apart (again)...
Next up was Pikachu, which ran admirably! While ostensibly a streetbike
when wearing all my best bodywork, it is somewhere between Supersport and
Superbike, and strong! I really like the fat seat I inherited from Pete
Neilson, have to do that to the others!
After that I got Spawn warmed up, with the spare (pre-'83) YZ80 motor
in it while the other one gets resealed...no boost bottle on this one
and the throttle has two working positions, "off" & "on"...but a strong
runner nonetheless...the clutch is so stiff that my wrist wore out and I
finally quit using it al together, great for the tranny I'm sure...
Finally got Zephyr going, I borrowed it from Wendy as it's the most
reliable of the lot and I knew I'd have something to race even if
everything else blew up, heh!
Charles and Ruth showed up, and Ruth got out there and found traction
limits while Charles worked hard to get Rosebud going, to little avail
much to his frustration...
I practiced my a** off, I got in nearly 5 hours of track time altogether
and had some good dices, especially at the end of the day with Seth, with
me on Zephyr, good head-to-head until Seth did the horizontal shuffle,
taking out that green TCR windscreen in the process...I had had the
misfortune to lowside _his_ bike earlier in the day, the bruises are
turning pretty colors by now...
Bobby Hawbaker came by and let me take a few laps on his NS50, I had to
stop before I crashed it too, as I was getting both knees down in the
corners, yikes! Fun bike! It'd be a real contender if he races it, look
out...
Finally the stock car guys came by and we closed up at 3pm, went over to
the RSR pits and sampled the Hurricane blender, then off to H. Marc's to
crash. Everyone but me went out for Mexican, I stayed home, took a shower,
and relaxed playing PokeMon on my Gameboy...yes, it's an addiction...
The next morning I was _stiff and sore_ , but that's what Motrin is for!
Back to the track, it's even _colder_ than Saturday! Snow falls
intermittantly then hard, which wets down the track just before race time!
Bret had showed up and was giving Chris's YZ80 a tough time on his
superclean 50Superbike, but they both chose to pass on a wet race, as did
Todd, neener neener! Ian Stark borrowed one of the NSR50's (!) and got
out there and practiced in the wet - you go, Ian! Mick of WUF Racing
came over and promptly oopsed in the wet, but when race time came, it was
me on Pikachu, Seth, Ian, Mick and Charles on the grid..
Joe Warren flagged for us with our shiny new flags (thanks Keri & Chris),
and various WLites and WMRRA types came and corner worked and spectated -
thanks all!
I _finally_ got a good start on the steaming wet track, and was in second
into Turn One when the motor went off, damn! About a third of the way into
the race it came back, and I steadily gained from there, catching first
Ian then up behind Mick - I even put my foot down flattrack style
in the wet as I tried to make up time - I jammed Pikachu right up his
tailpiece and as the white flag waved I just had a feeling I could pull
2nd out of the hat - Seth meanwhile walking away from the rest for the
lead - coming off the oval I went low and tried to get by Mick there, but
he carried more speed through Two, but went wide in Three, and I was past!
As I accelerated down the kink, all the way over to the right, what's
this?! Mick! I think he was carrying more speed trying to retake position,
came all the way over but I was already occupying that space so bump,
crash, off I went into the dirt! Damn! I had my hand up ("I'm ok") before
I stopped moving I think, jumped up and restarted the bike and finished,
but the day was history. Seth won, Mick 2nd, Ian 3rd, me last. Charles
dnf'ed with mechanical problems, but good try!
Thanks to everyone who came out and made this happen once again - watch
out, I have overcome my trepidations about racing close now! heh
With the governor off, we made it back to Seattle in 4 hours flat, Seth
did very well as we rollercoastered back into King County at 90 with Ozzy
belting out out "War Pigs" on the radio, eek!
There are basically crappy photos from Sat. practice at:
http://www.micapeak.com/ysr/MaySpo.html
If you took any pics I would be happy to scan them, please let me know, I
saw so>
---
Transfer interrupted!
n two weeks, see you there!
h23