Cheap Ass Racing Photo Journal
Racing in the Rain in Spokaine
May 8-9, 1999
(See also Havoc's pictures.)

---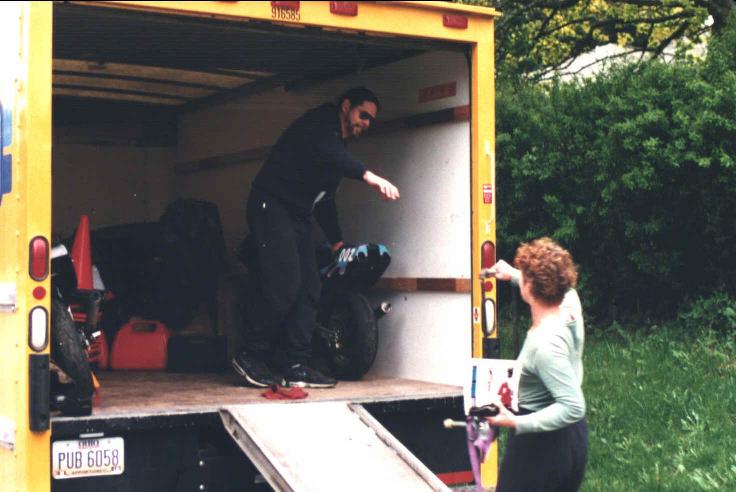 Loading the huge-ass truck at Wendy's.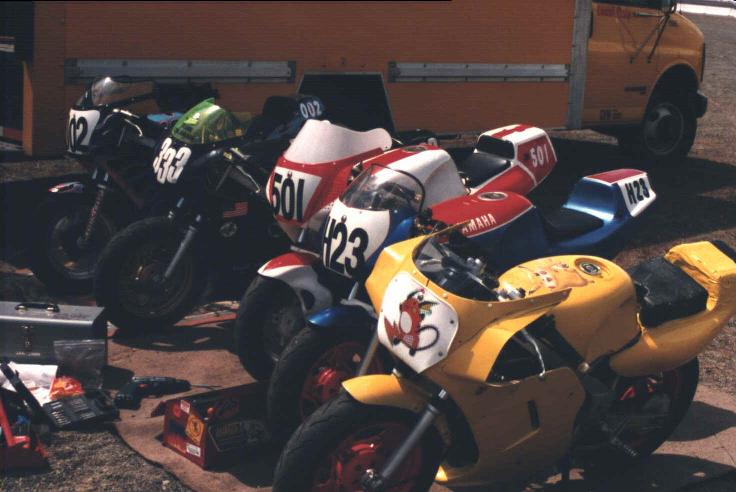 Yes, we managed to fit all of these bikes into the truck... Mine's number 333, with the butt-ugly green windshield.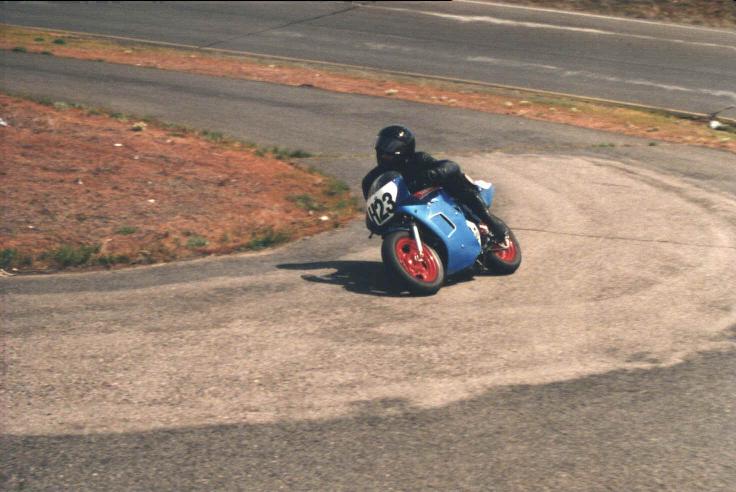 Havoc gets a knee down.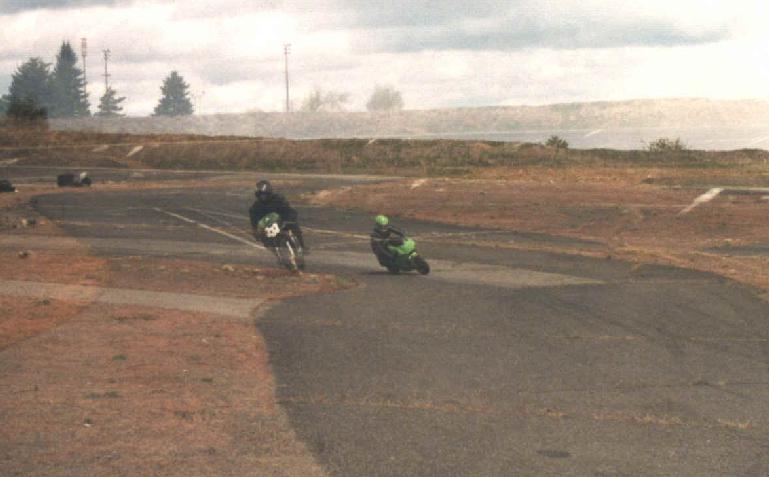 My $5 camera messes up, with not entirely unpleasant results.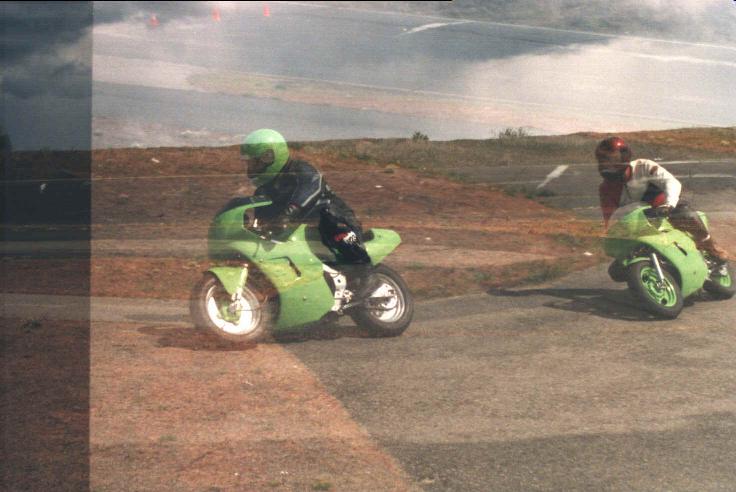 My camera ruins a great shot of the green machines dancing.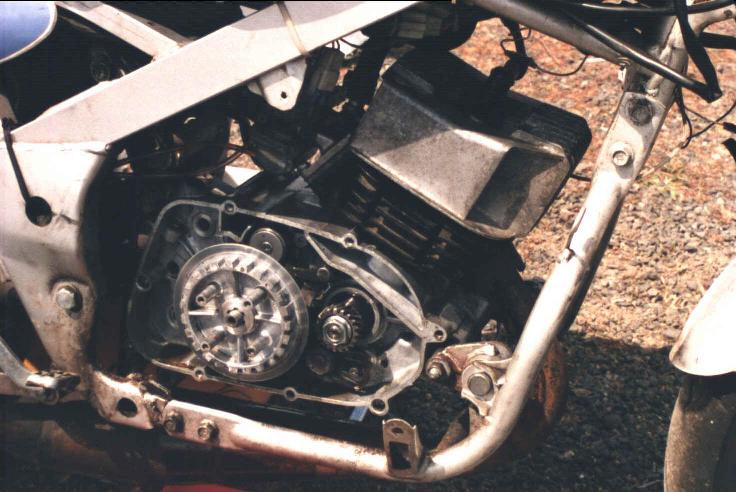 Charles Clinton's poor wooser.
If it doesn't work, file it down!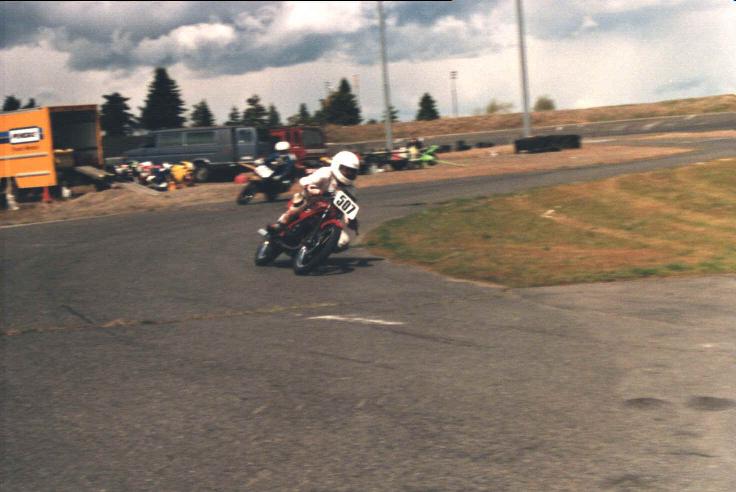 Going, going...
(Whoa, what's that alien doing in the lower-right?)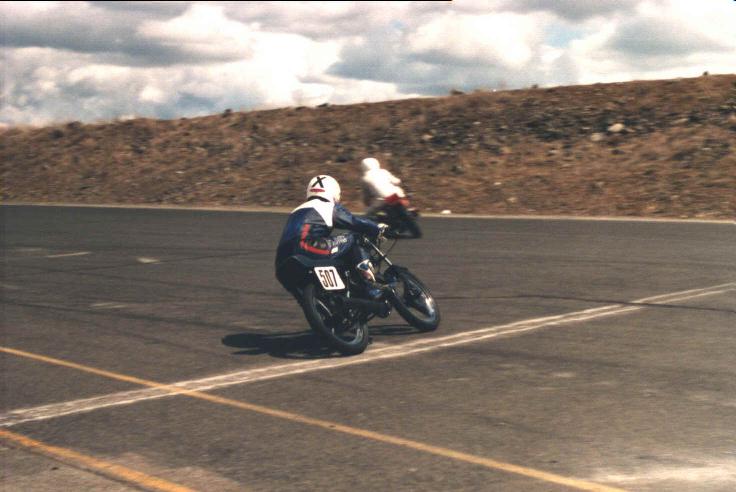 ...gone.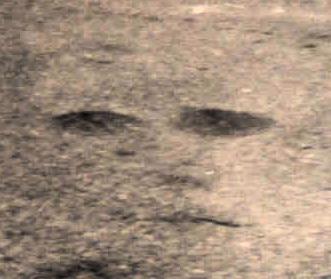 A computer-enhanced closeup of the mysterious Face. A government grant is needed for further investigation.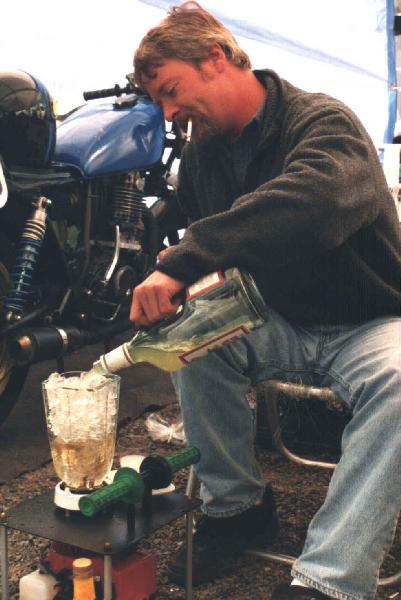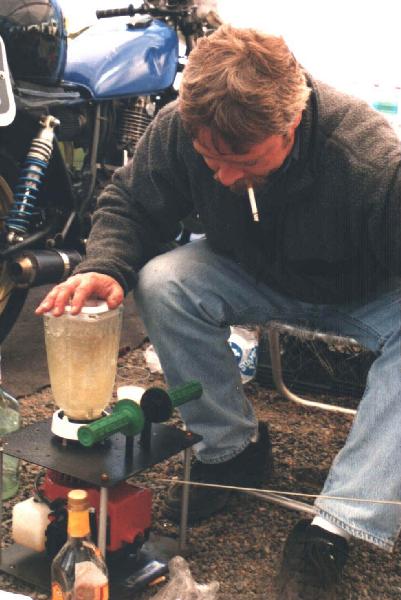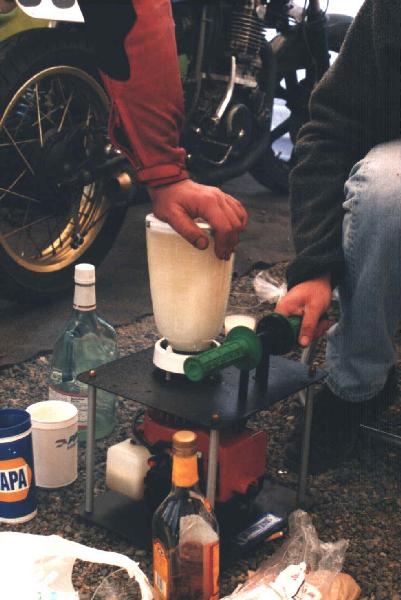 How to turn a two-stroke engine into a great margarita!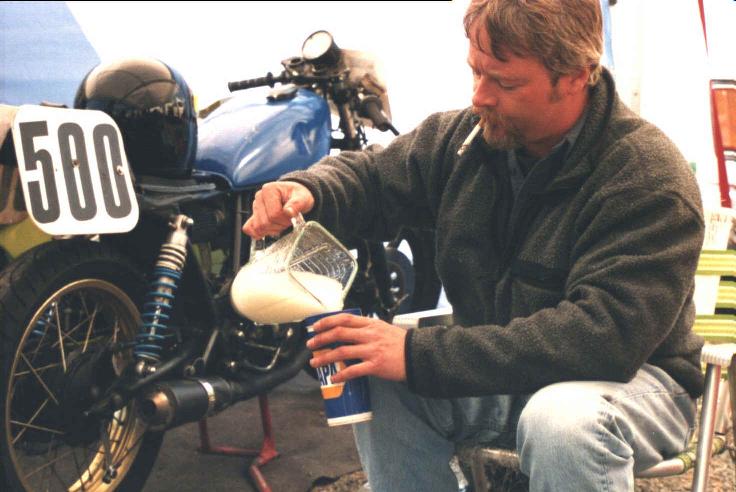 Yummy.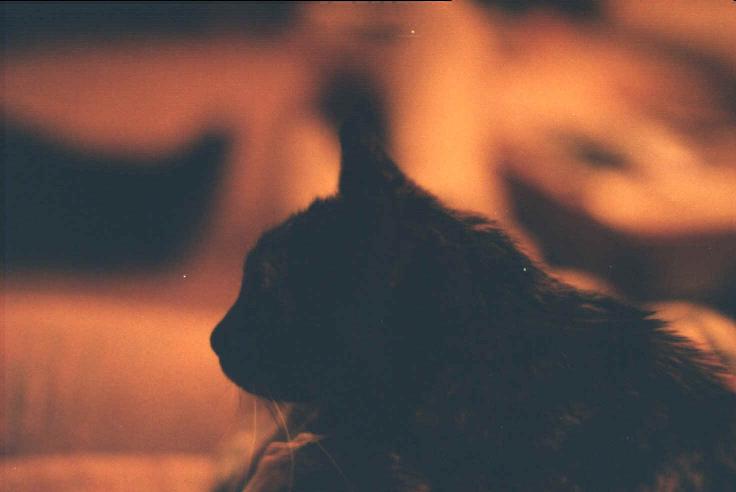 I call this one Cat On Fire.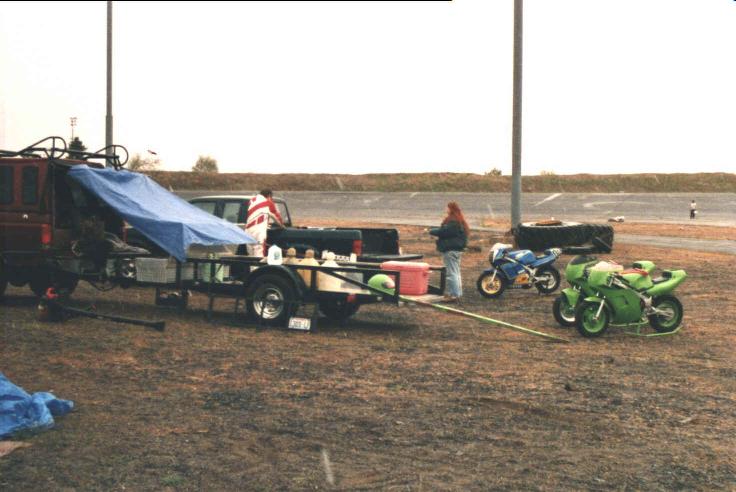 Sunday morning: snow. Ugh.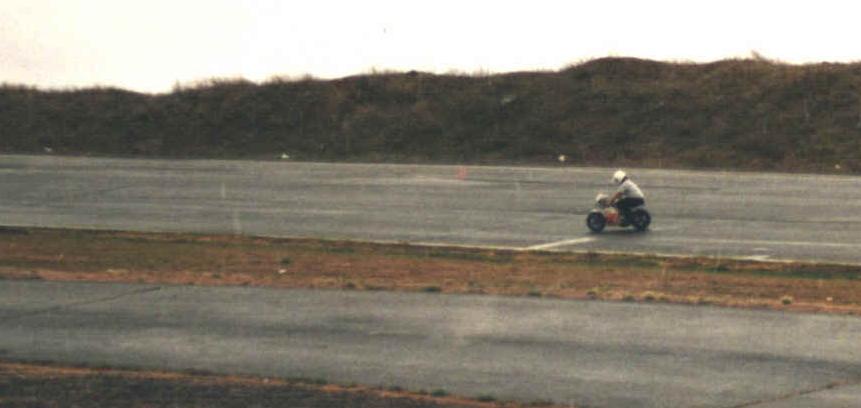 Charles tries to get his bike running, in the snow, in a tee shirt. Now that's dedication!
(Kids, don't try this at home. This man is a trained professional.)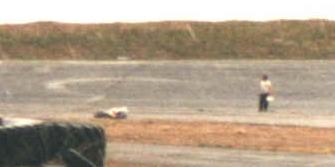 Charles is frustrated. Yes, that's his bike on the ground.
Sadly, I have no pictures of the actual race since, well, I was busy winning. Only five people (Havoc, Charles Clinton, Ian, Mick, and I) were brave enough to race. I got a *very* slow start, since I didn't realize that the green flag could go down as soon as everyone gridded, so I was caught with my metaphorical pants down around 3000 RPM when the flag waved. Despite my poor start, I ended up in third into turn one. A few laps later, I managed to pull past Havoc with a better line onto the straight (it helped that he was crippled with a flaky engine). Some hard riding and I caught up to Mick, then had a really scary moment as I left braking until too late at the end of the straight, and locked up the front wheel on the wet track. Imagine me, front wheel akimbo, flailing down the track with both my feet on the ground as outriggers... Somehow I rescued it without going down and only lost about a second on Mick. A few laps later I managed to get by Mick coming onto the straight, and a few laps after that I had a quarter lap lead. I almost threw it all away again doing the sliding W at the end of the straight, and kicked myself a few dozen times mentally for pushing it when I had the lead. I managed to take the checkered flag with about half a lap on Mick.
Charles had pulled out early with a seized engine (after all time in the snow getting it running - such a shame). Near the end Havoc was dicing with Mick, pushing for second. On my victory lap (we do get a victory lap, right?), I got to see the outcome of a little contact racing - Havoc went down just three turns from the end of the race. He got back up quickly, and got over the line just behind Mick and Ian.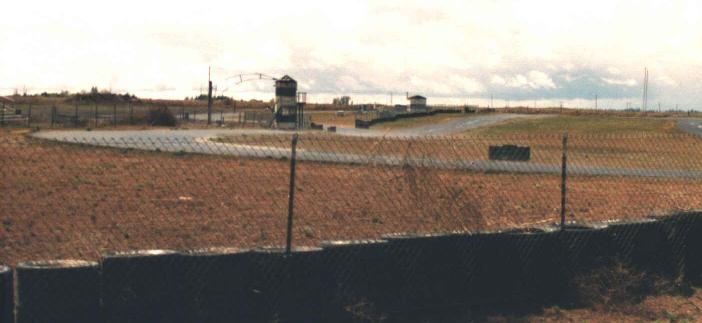 A sucky picture of the cool cart track near SRP. Unfortunately, my camera munged my wonderful three-photo panorama of the whole track, so you can't see it in its full glory. We've got to race on this track...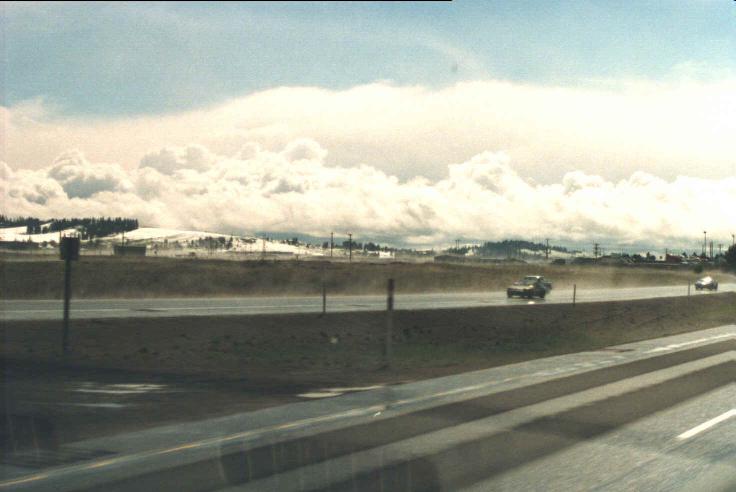 Going home: yes, that's snow just outside Spokane.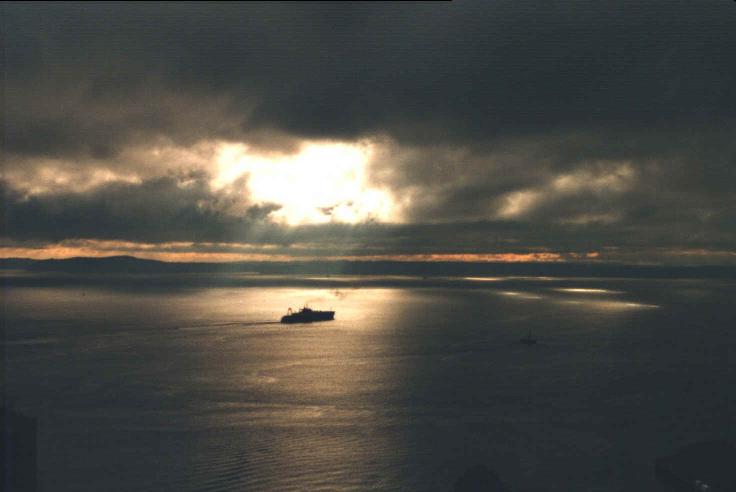 And finally, for good measure, the view of the Puget Sound out my office window.
---
sethml@ofb.net