NMRA Season Opener
Pat's Acres 11-12Mar 2000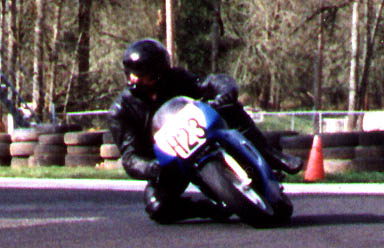 Keith Underdahl's pics
Havoc's pics
Phil Tanner's photos
Team Spawn Race Report:
Date: Tue, 14 Mar 2000 12:28:45 -0800
From: havoc23 <carcosa@eskimo.com>
To: Northwest YSR-50 Enthusiasts <nw-ysr@micapeak.com>
Subject: [YSR] Team Spawn Race Report - NMRA Season Opener
Keith Underdahl wrote:
> I stopped by Pat's Acres near Canby this weekend to check out the NMRA's
> YSR racing there. Havoc was in da house and having entirely too much fun.
> Here are a few pics:
>
> http://www.proaxis.com/~kcunderdahl/temp.htm
Keith hailed me as I walked through the staging area, 'Hey, Havoc!"
I turned, looked right through him, shook my head and kept walking.
Wasn't till I got to our paddock that the brain engaged, so taken with the
track it was...sheesh. Thanks for coming, Keith!

While being there meant missing both Kathryn's party and Daytona, it
was a sacrifice well rewarded - this track is fantastic!! Smooth, tricky,
fast. The corners have a thick layer of sticky rubber put down by the
racing karts, unbelievable traction! The weather was great, and we got
as much practice time as we could stand on Saturday - I promptly got the
first crash of the season out of the way, (new tires on Spawn), then
settled down to getting the track quasi-dialed in, what with it's
sweepers, switchbacks and off-camber sections it is an absolute hoot!
Traction is so good I found myself actually pushing the _front_ tire
in Turn One, something I've never done before, a strange feeling indeed!
I had carb problems with Zephyr so I stuck with Spawn all weekend, the
winter's efforts paid good dividends, what with alu wheels and IRC tires
plus repaired motor mounts and Pro Circuit silencer, it's almost
_rideable_ now, eek! I was geared too tall but still managed to get around
pretty quickly, I'm glad we had to alternate with the karts on Saturday
as I'd have overdone things for sure, it was so fun!
Sunday I woke stiff & sore anyway, and got to the track late - there were
about a million (it seemed) karters there, yikes! Coordination was a
little rough but that'll improve with the season I expect, and no worse
than WMRRA (yikes again!), we got a couple short practice sessions, a 10-lap
heat, (that's what Keith's pics are from), and a 16-lap main, not bad!
I felt good in practice, but the sparkplug wire vibrated off during the
heat, so I dnf'd. Pfft. So now _it's_ safety-wired too! I got a great
start in the main, and put the hammer down for the first half before
I got tired and started to slow down, damn I hope I can get that YZ80
motor rubber-mounted before too long! Still, I motored to the finish
without incident...I'll have photos up by the end of the week...
Ok, here's the pitch - COME OUT AND RACE!!!!!
This is the BEST venue YSR racers in this region have EVER had, IMO
it's even better than Wenatchee (!) - if you have even _thought_ about
racing YSRs but have been put off by the lack of venues, NOW is your
time! We need more bikes out there so we can run separate classes for
the 50s and 80s, our ship has finally come in, don't miss the boat! (Ugh,
crappy metaphors)
Next race is March 26th with the PCYC at the F440 track in Canada,
followed by April Fools weekend with NMRA in Canby. Come out, come out!!
excitedly,
h23

NW-YSR